This article is more than 1 year old
Brit fantasy artist sues James Cameron over Avatar world
Accuses studio, director of nicking blue aliens' homeland
The highest-grossing film of all time has once again found itself in the courts as a British artist has accused Avatar's creators of copyright infringement, breach of implied contact, unfair competition and unjust enrichment.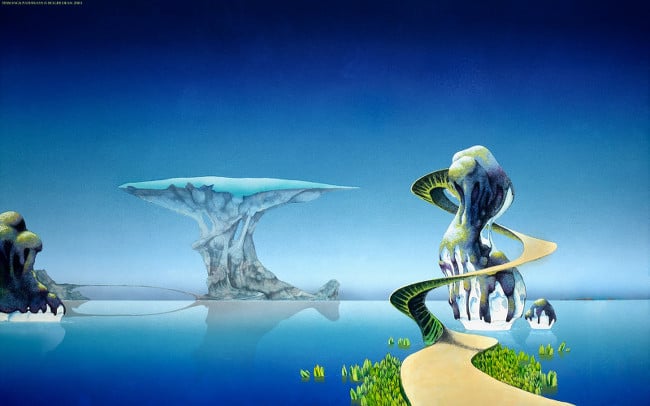 "Pathways" painting by W. Roger Dean, also featured on the album cover of Yessongs (by English prog rock band Yes). Credit: William Roger Dean
James Cameron and 20th Century Fox have both been named in the suit from William Roger Dean, who wants more than $50m in damages because the world of the film, Pandora, reminds him so much of his images. He also claims that he took a film proposal to the 2005 Cannes Film Fest based on those images, a claim from which his charge of breach of implied contact arises.
Dean's paintings of fantasy landscapes, which have included pictures of floating islands in the sky and fantastically huge trees, have featured on album covers from bands like Yes and Asia and been displayed in museums, private collections and books.
In his court filing, reproduced by Deadline: Hollywood, the UK artist claims that the floating mountains and stone arches of Pandora are copied from his works, and the Na'vi "Home Tree" and "Tree of Life" also feature in his paintings.
"The "Pathways (Yessongs)" painting is the source for three of the Pandora features. The distant tree city provides the form and the iconic silhouette for the 'Home Tree'. The foreground double helix 'pathway' becomes the double helix pathway with the 'Home Tree' and the foreground green 'Barnacle' plants become ubiquitous on Pandora," the filing said.
The filing also asserts that wildlife from Dean's art has shown up in Pandora and said that similarities to the landscapes have been noticed and commented on online.
Dean wants the damages, an injunction and a court order posted online and elsewhere admitting that Avatar infringed on his copyrighted images and wants these rights imposed on potential sequels and prequels, as well as the Walt Disney World Avatar-themed attraction.
The suit is the fourth that Avatar has faced. In March this year, a judge decided that a suit brought by screenwriter Bryant Moore, who claims that scripts of his were used as the basis for the movie, would go to trial.
The film has fended off two other claims, including one from writer Elijah Schkeiban, who said Avatar was a ripoff of his book and film Bats and Butterflies.
The other was filed by Gerald Morawski, an artist who said he pitched a film project about evil mining interests destroying a planet and an indigenous people who were at one with their rainforest environment to Cameron after selling him four artworks in the '90s. ®