What would you do if you had a golden ticket that helped you avoid having to cough a big wodge of tax cash?
Well, if you were Google, you'd build a hulking great glass monstrosity as wide as The Shard is tall, smack bang in the middle of London.
The advertising giant has filed plans for a new £650m, 330m-long UK Chocolate Factory with Camden Council.
The one million square foot building will be part of the 67-acre King's Cross development scheme, which is a plan to transform the formerly grim neighbourhood. Once upon a time, the area was well known for being frequented by ladies of the night, but soon the only sort of women hanging around after dark will be hard-working Google staffers.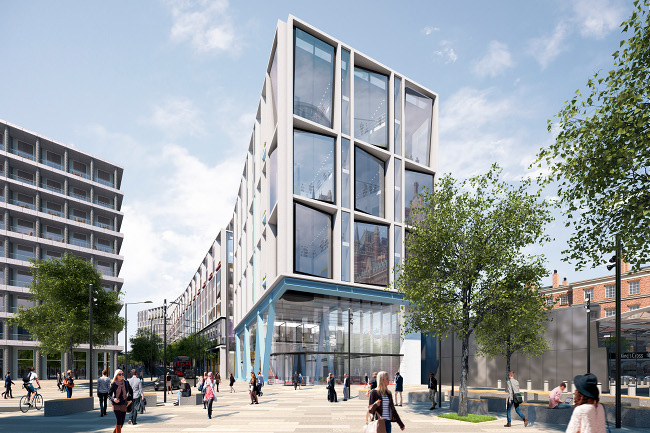 Google said its new building will generate 1,500 construction jobs and will house all its London-based staff, who are currently based in Victoria and Holborn. It is the first time Google has plonked a purpose-built headquarters anywhere in the world.
If Camden gives Google the nod, work will start early next year and will finish in late 2016. Dan Cobley, Google UK's managing director, said: "Building our new headquarters in King's Cross is good for Google and good for London. We're committed to the UK and to playing a role in the regeneration of this historic area."
The architectural firm AHMM spent two years working on the plans, drawing inspiration from the area's "unique industrial heritage". What this means in practice is that the building looks a bit like the Borg's cube spaceships, which we don't remember ever touching down in King's Cross.
Simon Allford, AHMM director, said: "This building is underpinned by cutting edge design intelligence and technologies to provide a sophisticated twenty first century working environment for Google's staff.
"The architectural approach, which has taken inspiration from King's Cross and St Pancras International railway stations, complements the local area's strong industrial heritage and will be a building London can be proud of."
And yes, El Reg can confirm that there will be beanbags. A source told us: "It's Google. What else do you expect?"
Here are the facts, according to Google:
The 1,000,000 (gross) sq ft new UK headquarters features 725,000 sq ft of office space and around 50,000 sq ft of retail space at ground level. The building ranges in height from seven storeys at the south end closest to King's Cross Station to 11 storeys at the northern end overlooking Regent's Canal.

The building has been designed to meet the highest standards of environmental sustainability, ensuring low energy usage and incorporating state-of-the-art materials.

Much of the internal structure will be constructed using steel framing with cross-laminated timber panels - a first for a contemporary building of this scale.

The aspiration is to achieve BREEAM Outstanding and LEED Platinum ratings and deliver an overall carbon saving of 40%. The external design of the building pays homage to the broad industrial history of the local area, including steel columns, pre-cast concrete panels and low-iron glass. Bolder colours will be introduced through painted steelwork, taking inspiration from architectural elements nearby, including the metalwork at St Pancras International.
Reg readers will remember that we were the first to show images of Google's smaller Chocolate Boutique in Covent Garden... Mmmm, scatter cushions. ®
Similar topics