This article is more than 1 year old
British Bebo founder buys back social network for $849m profit
Saw AOL coming a mile off
"Buy low, sell high," is the investor's mantra. Michael Birch, the British founder of Bebo, has just amply demonstrated that principle by spending a piddling $1m to buy back the social network he sold to AOL for $850m five years ago.
We just bought Bebo back for $1m. Can we actually re-invent it? Who knows, but it will be fun trying...

— Michael Birch (@mickbirch) July 1, 2013
Birch set up Bebo in 2005 with his wife Xochi while at Imperial College London. It gained popularity quickly, briefly becoming the UK's most popular social network. At its peak it had over 40 million regular users, but was edging into also-ran status as Facebook and MySpace gained critical global mass. But in the heady days of pre-crash mania Birch and his wife sold off Bebo to AOL, pocketing a personal windfall of $595m in the process.
A few months later global financial markets imploded, a collapse in the economy followed, and suddenly that $850m price tag looked ridiculously large in light of Bebo's deficiencies. The purchase deal was masterminded by AOL's CEO Randy Falco, and he was ejected from the company less than a year afterwards, in part due to the price paid for the social network.
By 2010 the site was hemorrhaging users and AOL started moves to wrap up the company, eventually selling Bebo to Criterion Capital Partners (CCP) for under $10m. It was relaunched in 2011 with Birch as a consultant, but quickly ran into problems, crashing badly the following year in what an employee described as "a technical clusterfuck."
Since then it has continued to lose users fairly steadily, and in May Bebo filed for bankruptcy protection. CCP have now offloaded it, and it's back in Birch's hands for 0.017 per cent of its original sale price.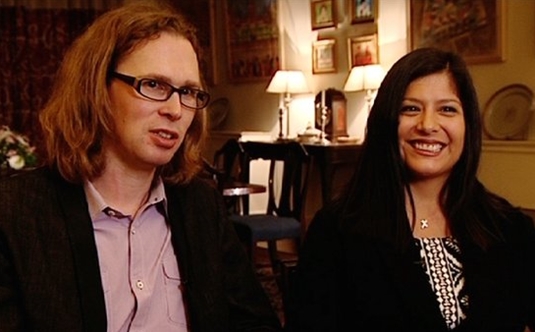 You'd be grinning too. (source: BBC)
Since cashing out of the social networking game, Birch and Xochi have been hanging out in the San Francisco Bay Area working on a number of projects. The couple set up a tech incubator called Monkey Inferno, are active in charity work on water issues, and are building a luxury members-only drinking and discussion club in San Francisco called The Battery.
"We're excited about the ambitious challenge of bringing Bebo back, and couldn't be happier to announce that the product in the hands of the founders," said Shaan Puri, CEO of Monkey Inferno. "We know the odds are stacked against us but we love challenges and the Bebo users deserve better that what they have received in the past few years."
Quite what the dynamic duo intend to do with the skeletal remains of Bebo remains to be seen. Fellow overpriced social-networking firm MySpace is now concentrating on music promotion –, with mixed success – but it's difficult to see a niche that Bebo could get itself into.
Then again, it may be that Birch just wanted to give his creation a decent burial. After making out quite so well from AOL, $1m is the kind of money Birch could probably lose down the back of the couch, and splashing out on a pricy vanity project isn't unknown among the well-heeled of Silicon Valley. ®