Gartner has updated its HDD 2012-2017 shipment forecast, and predicts the amount of NAND flash shipped in hybrid drives should increase 163 times in the five years to 2017. But the analyst did not spill the beans on the current level of shipments - nor indeed on how much NAND flash it believes will ultimately be shipped in 2017. What we do have is a clearer picture of what's happening in hard disk drive shipments overall. It seems that traditional HDD vendors will still be making a lot of money and have little to fear from flash.
As noted by Stifel Nicolaus analyst Aaron Rakers, Gartner reckons total HDD shipments this year will be 570.3 million units, just 1.2 per cent down on 2012. High capacity SAS and SATA hard disks, along with 10/15k rpm SAS and FC drive shipments, will grow 10 per cent to 69.8 million units in 2013, reaching 87.1 million units by 2014 and a surprisingly high 143.5 million units in 2017. This equates to a 19 per cent compound annual growth rate (CAGR).
So much for NAND flash portending general HDD industry doom. But that's not the whole story.
All the growth is in the high-capacity drives. The 10/1k SAS/FC sector will decline, with 33.3 million units shipped in 2012 declining to 27 million by 2017, attributed to the growing popularity of flash storage. Rakers writes: "These estimates reflect the impact of flash/SSDs within the performance tier within the server/storage market."
High-cap drive shipments were 30 million last year and should rise to 116.5 million by 2017, providing a CAGR greater than 30 per cent.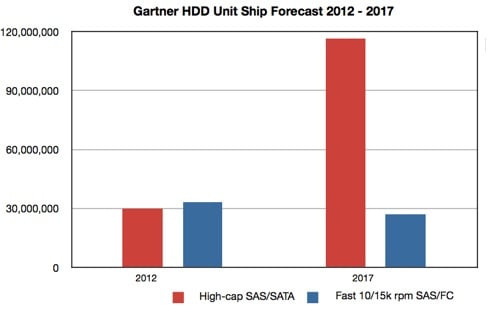 These two drive types made up 11 per cent of total HDD shipments in 2012 and their proportion will rise to 22 per cent by 2017.
Gartner thinks total HDD industry revenue was $38.7 billion in 2012 and will grow to $41.9bn by 2017, due to a 2 per cent compound annual growth rate.
Looking at the 2.5in mobile disk drive space, Gartner sees 2014 unit shipments of 296.7 million, down 1.3 per cent from 2012.
The desktop drive area should see an 11 per cent CAGR decline from 2012 to 2017.
Interestingly, Gartner sees no increase in the proportion of NAND capacity shipped to HDD capacity shipped from 2012 to 2014. In 2012 it says around 30 exabytes of NAND capacity were shipped and this will rise to 60EB by 2014. It says both figures are about 8 per cent of shipped disk drive capacity.
Looking specifically at the SSD use of NAND, Gartner sees 5.2EB shipped in 2012 with 18EB to be shipped in 2017.
A highlight of Gartner's forecast is that NAND consumption by hybrid disk drives to rise from 15 petabytes in 2012 through about 790PB in 2014 to around 2,540PB in 2017, a 169x increase from 2012 to 2017. ®