This article is more than 1 year old
Mellanox coughs nearly $130m for optical networkers to fight off Chipzilla
Lighting up your network, from end to end
Network chip and switch maker Mellanox Technologies knows that Intel is breathing down its neck in the data center switching market, and it is not just sitting around waiting for Chipzilla to read it the riot act. Rather, Mellanox has been on a buying binge - to the tune of close on $129.5m - in recent weeks to build out its products for the inevitable shift to optical interconnects and the push above 100Gb/sec network bandwidths that will require that shift to lower the power envelop of servers and switches alike.
Mellanox has just completed its acquisition of Danish optical interconnect component supplier IPtronics for $47.5m, hot on the heels of the $82m acquisition of Kotura, a maker of photo detectors and modulators, six weeks ago. As the March quarter came to an end, Mellanox had $402.9m in cash and investments, and for all of 2012 its sales rose by 93 per cent year-on-year to $500.8m.
There have been some bumps here in there in the past few quarters, with issues concerning InfiniBand cables and one of its key partners overbuying adapters and possibly switches and messing up its revenue projections.
That combined $129.5m that Mellanox is ponying up for IPtronics and Kotura may not seem like a lot, and particularly not for a company the size of Chipzilla, which generates billions of dollars in surplus cash each year. And it is not even of the same scale as when Mellanox ate sometime rival, sometime partner Voltaire back in November 2010 for $218m.
That Voltaire acquisition allowed Mellanox to basically quadruple its revenues in three years, and perhaps has not given Mellanox the success it might have thought it would attain in the Ethernet switch racket. But Mellanox is in the cat-bird seat when it comes to InfiniBand ASICs, switching, and adapters now. And its only real rival is Intel, which ate the QLogic to get an InfiniBand business and Fulcrum Microsystems to get an Ethernet switch ASIC business to add to its existing Ethernet adapter businesses.
And just for fun, Intel ate Cray's "Aries" supercomputer interconnect for $140m, possibly to keep it out of the hands of Nvidia, which could make all kinds of trouble with the mixture of a scalable and fast interconnect, ARM processors, and GPU coprocessors. (Nvidia may still get there anyway, as El Reg has already pondered.)
Having positioned itself well for a converged Ethernet-InfiniBand market (should it go that way), now Mellanox has to worry about what happens out beyond 100Gb/sec. And as it turns out, the cables are just as important as the switch ASICS and the switches, and that's why the company is spending some cash on IPtronics and Kotura.
"Our acquisition of IPtronics further solidifies our strategy to provide full end-to-end solutions for the server and storage interconnect," explained Mellanox president and CEO Eyal Waldman in a statement. "Together, we expect to continue to offer faster interconnect solutions at 100Gb/s and beyond, with higher density and lower power at a lower cost."
Mellanox plans to use the Roskilde, Denmark headquarters of the former IPtronics, which is outside of Copenhagen close to annual mega music festival venue, as its European research and development center. The Danish acquisition will be a "wholly owned indirect subsidiary" of Mellanox. (El Reg is perplexed by the term indirect there, but that is what Mellanox said.) IPtronics had offices in Menlo Park, California, as well and had 20 employees across its two sites, who now have joined Mellanox. IPtronics makes vertical cavity surface-emitting laser (VCSEL) drivers, modulator drivers (MDs), and transimpedance amplifier arrays (TIAs). ST Microelectronics etches its chippery and it has shipped over 4 million units to date.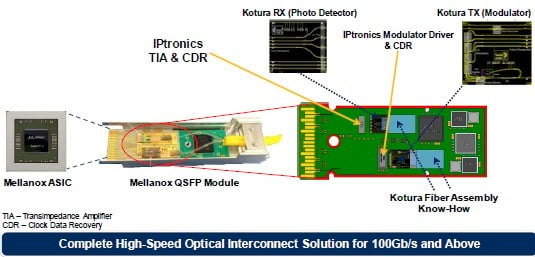 How the IPtronics and Kotura bits fit into the Mellanox line
The Kotura deal from mid-May, which was nearly twice as expensive, has not yet closed and is slated to be completed before the end of the year. Kotura, which is privately held, was founded in 2004 to make silicon photonics components, and generated its first sales in two years later. In 2008, server-maker Sun Microsystems (now part of Oracle) shelled out $14m to Kotura to work on photonic linking of processors as part of an overall $44m project paid for by the US Defense Advanced Research Projects Agency.
Kotura has 81 employees and 25 of them are researchers with PhDs. It has its headquarters in Monterey Park, California, which Mellanox is going to make a research center for its operations in North America; it also has an office in Shenzhen, China, which is where a lot of the circuitry in the world is increasingly manufactured. The company has over 122 patents, one of the big reasons that Mellanox is paying so much dough for Kotura, and has shipped over 800,000 channels into optical networks to date. Kotura is currently selling variable optical attenuators and optical multiplexers, but in the near-term it will be shipping 4x25Gb/sec circuits for QSFP cables used to build out data center fabrics.
In reporting its financial results for the first quarter back in late April, Mellanox said that it has already concocted switch ASICs to run at 100Gb/sec speeds and that will support the future Enhanced Data Rate (or EDR) version of InfiniBand. If all went according to plan, then this SwitchX-3 chip must have taped out within the past few weeks; it is etched using 20 nanometer processes. The plan is to get EDR products into the field in 2014 or 2015, so don't get your checkbooks out quite yet.
When you cut right to the chase, Mellanox has decided it needs to make the switch ASICs as well as the QSFP modules to tune up networks that run at 100Gb/sec and higher speeds as well as trying to extend cable lengths at those higher speeds. ®