Microsoft has received two pieces of good news concerning its not-exactly-barn-burning Windows 8: there are now over 100,000 apps in the Windows 8 app store, and the installed base of Windows 8 has passed that of the late and unlamented Windows Vista.
What's more, that 100,000-app milestore was reached in just eight months – that's faster than did Apple's iPad (about a year and a half) and Google Play (about two years). You could, of course, argue that Apple and Google created the consumer hunger for apps, and Microsoft merely fed it – and you'd be right.
But, hey, let's allow Ballmer & Co. a bit of undiluted happiness. After all, it's been a trying last couple of years for them.
Thanks for a great \\build! Just passed 100k apps in the Windows Store.

— Windows App Builders (@windevs) July 1, 2013
In addition to the Windows 8 app store news, Net Applications' Net Market Share stats machine says that as of last month, Windows 8 has squeaked past Windows Vista in installed-base market share, with the new Windows holding a total share of 5.1 per cent, and that Hindenberg of OSes, Vista, falling slightly but measurably behind at 4.62 per cent.
Windows 7 continues to rule the global roost, Net Applications says, with a hefty 44.37 per cent of the pie. Windows XP – still belovéd by many a sysadmin – is not far behind at 37.17 per cent.
Despite the popularity of Apple's laptop line – its MacBook Air, the market-watchers at NPD say, holds 56 per cent of the "thin and light" notebook market – the market share of OS X remains either wimpy or exclusive, depending upon your point of view. Taken together, OS X versions 10.6 (Snow Leopard), 10.7 (Lion), and 10.8 (Mountain Lion) total just 6.63 per cent, Net Applications says.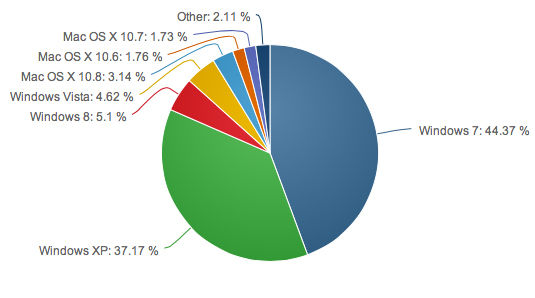 We're willing to bet that Reg readers occupy a disproportionate share of 'Other' (source: Net Applications)
Still, that's better than Windows 8's numbers. Perhaps the recently released Windows 8.1 update will boost Microsoft's must-succeed operating system's 5.1 share, but we're not holding our breath here at Vulture Annex. With the still-lackluster uptake of Windows 8 tablets and the overall sluggardliness of the PC market, Windows 8 has a strong headwind with which to contend.
Intel seems to believe that "2-in-1" tablet-keyboard mashups will resurrect Windows 8's fortunes – but cf. breath reference in the preceding paragraph for the Reg's considered opinion. ®
Bootnote
Although some observers have complained about the quality of apps in the Windows 8 app store, the Reg's Fart App Index™ indicates that the store also falls well below industry standards in another important area.
To wit: a search for "fart" in the iPhone section of the iTunes app store returns a list of 886 apps – including such Oscar Wilde–worthy wit as Farting Frenzy XL, Farthoven, and Ow My Balls! – which is a minor but statistically significant increase in the FAI™ tally, which stood at 857 in January 2012.
The same search in the Windows 8 app store, however, turns up a paltry 56 such apps. Obviously, the attendees at last week's Microsoft Build conference were not sufficiently inspired by the tasty-but-potent fare at San Francisco's La Cumbre, El Farolito, Papalote, and their ilk.