Douglas Engelbart, PC pioneer and creator of the mouse, dies at 88
We lost a great one
Obit Douglas Engelbart, the creator of the computer mouse and the man who pushed the computer industry into the graphical user interface age, has died in his California home at the age of 88 from kidney failure.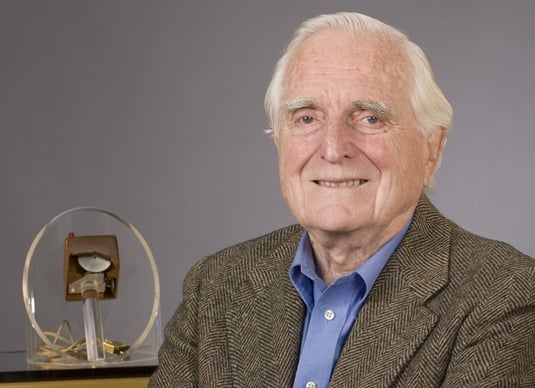 Douglas Engelbart and the first mouse
In 1967 Engelbart filed Patent No. 3,541,541 for "X-Y position indicator for a display system," a wooden shell with two wheels and a long tail - hence the nickname given to the device by the team. A year later Engelbart demonstrated the mouse at what became known as "The Mother of All Demos."
During the 90-minute presentation Engelbart used the mouse, a keyboard, and video projection screen to demonstrate how to build a networked series of terminals that let scientists share code, create and edit documents that contained links to prior research, while using a CRT monitor that could display separate applications running in their own window.
"Even way back then, we already had the concept of multiple windows," Engelbart told The Reg in 2005. "Any one application could manage multiple windows, and you could easily move objects, paragraphs, and words between them."
At the time the presentation by the Stanford Research Institute's Augmentation Research Center team was dismissed as fantasy and unnecessary. What did you need with window-like boxes on the screen for different applications and text editors when simply keying in code or using punch cards would achieve the same result?
It wasn't until Xerox PARC really developed the idea, and then passed it to Apple, that Engelbart's vision began to be realized.
Ideas in the jungle
Engelbart was born in the Oregon city of Portland in 1925 and like many men of his generation served in the Second World War. It was on a 1945 posting as a radar operator to the Philippines island of Leyte that he came across an essay by Vannevar Bush, who as head of the US Office of Scientific Research and Development had overseen the US civilian and scientific war effort.
Bush said that with the war over the goals of science must be turned to serve the civilian population and made a number of predictions that extrapolated current trends in technology, materials and computing technology. The article makes the usual hits and misses of prediction, but one in particular sparked something.
Bush suggested building a "mechanized private file and library," or "Memex," containing a whole repository of information a person might need as an aide memoire. Information could be accessed by tapping on a small keyboard and displayed to the user. It was an idea that stuck in Engelbart's mind.
After completing his service Engelbart worked until 1951 at the National Advisory Committee for Aeronautics (which later became NASA) and then studied at University of California, Berkeley, earning a PhD in electrical engineering and working on the big iron of its day – the California Digital Computer.
A lifetime of research
But it was at Stanford Research Institute that he really developed his ideas. Research funded by NASA and ARPA (now DARPA) in the 1960s led to the setting up of the SRI Augmentation Research Center and the development of the oN-Line System (NLS); a network of 16 keyboard and mouse-equipped terminals sharing a 96 MB storage disk that Engelbart used on that famous demo.
Engelbart made a comfortable living as a researcher and lecturer in later years, working for a variety of companies on different projects. He never received a penny in royalties for the mouse, which SRI sold for a reported $40,000, but his other patents reaped some returns.
It wasn't until the 1990s that he began to be recognized for his role in the birth of the popular computing industry. Since then he has scooped most of the top awards, including the Turing Prize, the US National Medal of Technology,a British Computer Society's Lovelace Medal, and Yale's first honorary doctorate of engineering and technology. ®