Who ate all the flash pie: Samsung, 'course, but hang on... GOOGLE?
Some surprises in SSDS, all-flash array shipments
Tech analyst Gartner has lifted the lid on its numbers for SSD shipments in 2012 and thanks to Stifel Nicolaus analyst Aaron Rakers, El Reg has some pie chart eye candy for you. First of all, it looks like the startups are catching up with the big vendors in some sectors, which is good news for competition. Also, Google is apparently an SSD player.* Yes, you read that correctly.
First up is Gartner's view of total SSD revenue shares by vendor in 2012: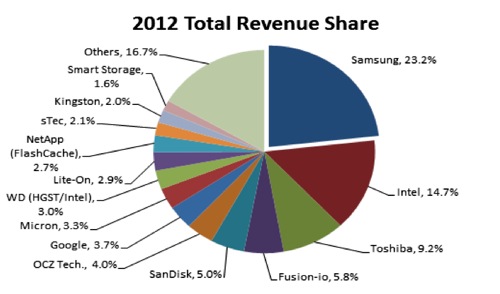 Samsung being the top dog is not a surprise, but Intel in the number two spot is unexpected, particularly contrasting with Micron's lowly position. Toshiba is in third place, Fusion-io is fourth, just ahead of SanDisk, with OCZ still doing well in sixth place. After that there is a long tail of vendors with the market overall being quite fragmented.
Next up is Gartner's view of PC SSD ship revenue share by vendor: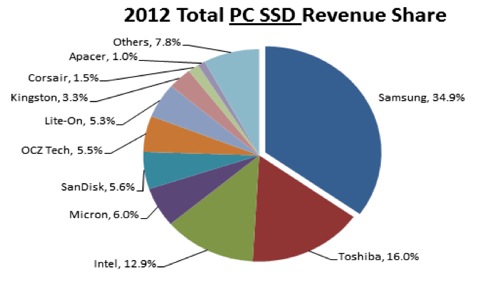 Samsung is massively in the lead, followed by Toshiba and then Intel. This market is not quite as fragmented as the overall market and the 'Others" category is considerably smaller.
Then we have Gartner's view of enterprise SSD revenue share by vendor: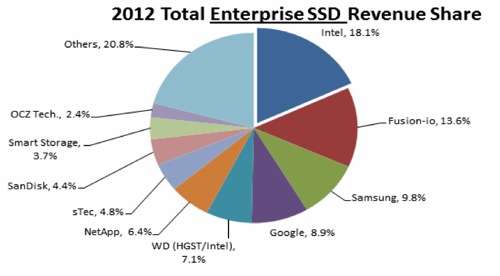 The ranking is completely different, with Intel in the lead, followed by Fusion-io, then Samsung... and Google! Where did that one come from? After WD's 7.1 per cent the tailend suppliers end at OCZ with everyone else in the "Others" category.
Next it tabulated vendor revenues and percentage revenues for the flash array market in 2012. We created a spreadsheet from these numbers: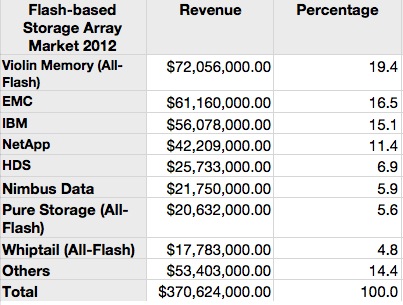 And then we created a pie chart from the percentages:
So ... Violin Memory leads the pack with its 19.4 per cent share and EMC is in second place, followed by IBM, NetApp, HDS and then the startups: Nimbus, Pure Storage and Whiptail. This is a new market and the distance between the mainstream vendors and the startups is not that large.
Either Nimbus or Pure Storage could overtake HDS if that supplier makes a mis-step. It would be fascinating to know the growth rates of these suppliers in the flash array market and then we could get a sense of where things are going. Without that we'll just have to wait 12 months for Gartner's next report on the topic.
It would have been great if Gartner had included PCIe flash card revenues as well. Maybe next year. ®
* Readers who can enlighten us about Google-branded white label SSDs, kit made by secret subsidiaries/little-known acquisitions, please comment below.