Motorola teases with Moto X 'design your own' phone
And it's sort-of 'Made in the USA'
The launch of Motorola's much-ballyhooed Moto X smartphone is starting to kick off, with the Google-owned firm taking out its first teaser adverts for the forthcoming handset.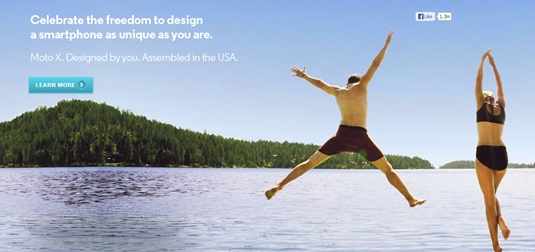 USA, USA, USA
There's no sign of the actual phone itself, but Motorola is striking a patriotic tone, which is handy considering the United States takes Thursday off for its annual "Huzzah, we kicked out the British and will now spell color anyway we like," Independence Day celebrations.
The phone is "Assembled in the USA," which indicates that most of the guts of the devices are going to be shipped in from cheap Chinese suppliers, with the final building getting done by more expensive US employees or contractors.
It is a canny PR move, and one that Apple is already trying with the latest 21.5-inch iMac, and could be a useful selling point with the domestic US audience. It helps that wages are growing in China and plummeting in the US as well.
The advert also promised that the handset will be "designed by you," by which presumably Motorola means the Android user interface rather than having any hardware specification - besides maybe a selection of colorful covers to express one's individuality, as advertisers like to put it.
The Moto X operating system issue is a contentious one for some, notably Samsung. Handset manufacturers are worried that Motorola will get preferential treatment when it comes to Android code and upgrades from parent company Google. Motorola says this isn't so, but many will be watching to see if such protestations turn out to be accurate.
Whether or not the new handset will be a winner remains to be seen. Motorola does have a history of producing a succession of duff handsets and then winning over people with the odd flash of brilliance. With the patent pool of the company proving less lucrative than Google might have liked, then a repeat of the RAZR's success would be most welcome to the Chocolate Factory. ®