Oracle tunes up Enterprise Manager control freak for 12c database
Plays nanny to Exalytics in-memory appliance
As Oracle introduces new wares on the hardware and software fronts, it has to plug Enterprise Manager into this new stuff, and so it is with the 12c Release 3 update of the control freak, which was launched concurrently with the availability of the Oracle 12c "cloud-ready" multi-tenant database management system this week.
Oracle's Enterprise Manager started out many years ago as a database management tool, as you might expect. But with the expansion by Big Red into middleware and application software and with the acquisition of Sun Microsystems hardware and systems software, Enterprise Manager has become the means to manage the complete Oracle stack from disk drive to app.
The tool is ubiquitous within Oracle shops. "Based on our surveys of customers, the vast majority of Oracle customers have Enterprise Manager installed," Sushil Kumar, vice president of product strategy and business development, tells El Reg. Oracle has about 390,000 customers, so there could be a very large customer base indeed for Enterprise Manager.
The big change with Enterprise Manager this time around with software management, aside from the 12c database support, is the ability to manage the GlassFish web application server and the Tuxedo transaction monitor that Oracle inherited with the Sun acquisition more than three years ago.
Enterprise Manager could already hook into Oracle's own WebLogic app server. (Well, if you consider the app server that Oracle got through its acquisition of BEA Systems as "its own.") And the Enterprise Manager 12c R3 update can discover and do a better job nannying Siebel customer relationship management software, and it has also been tweaked to monitor and manage the latest Fusion application stack from Oracle.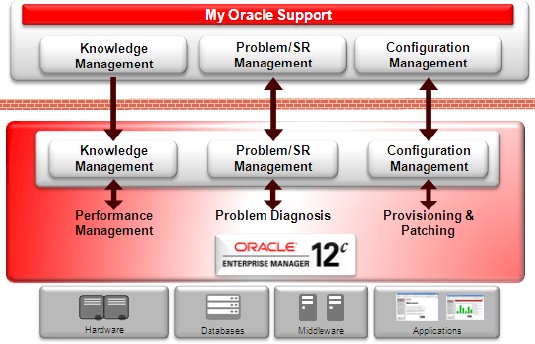 Enterprise Manager ties into all Oracle wares and back into Oracle support
On the hardware front, Enterprise Manager could already control the Exadata parallel database machine as well as the Exalogic middleware cluster (based on WebLogic of course). With the 12c Release 3 update the tool can now manage the Exalytics in-memory database appliance that is part of the Exa family.
The Oracle announcement did not say that Enterprise Manager 12c Release 3 could patch, provision, monitor, and manage the new Sparc SuperCluster T5-8 announced in a bit of a hurry by Oracle last week (after it reported disappointing financials the week before) but it stands to reason that Enterprise Manager has to hook into this new Sparc system.
There are other tweaks to Enterprise Manager. Kumar says that a lot of companies start out with one Exadata or Exalogic machine for a particular workload, and then add other machines. With changes in the latest release, they can have a unified view of multi-rack "engineered systems" instead of having to see them just as separate entities on the network.
The metering and chargeback features of Enterprise Manager are now more granular, offering a wider array of performance metrics that can be used to figure out who owes what for specific used capacity on the systems. tThey also allow you to create your own metrics if you want to charge departments and users on some scheme of your own.
The update also has a Java workload consolidation planner to help customers move disparate Java application servers onto the Exalogic clusters, and sports a change activity planner that helps schedule long, complex jobs such as patching a lot of systems in succession.
The base Enterprise Manager 12c tool is free, but it requires that you have at least one Oracle product – usually the Oracle database – to fire it up. Additional modules snap into Enterprise Manager, such as Ops Center Manager for patching and provisioning Oracle Linux and Solaris on Oracle systems or Cloud Control for managing Big Red systems that are set up as database or application server platform clouds.
Some have fees associated with them, some don't. You can download Enterprise Manager 12c Release 3 here. It is supported on Linux, Windows, Solaris, AIX, and HP-UX platforms.
Kumar says the Extensibility Exchange that Oracle set up three years ago to allow customers and partners to create plug-ins for Enterprise Manager 12c and share them continues to grow, with over 125 extensions to the control freak now available online. ®