This article is more than 1 year old
Fitbit Flex wristband: What to wear out when wearing yourself out
Google Glass, iWatch, activity monitor.... you're halfway to RoboCop
Review Judging by how quickly Apple is dashing around the world registering the iWatch trademark, by this time next year I could well have a micro Mac strapped to my wrist. And so might many others, if the craze for wearable devices continues on its current trajectory.
You might wonder what all the fuss is about and perhaps a bit of scepticism is no bad thing – healthy even? Admittedly, curiosity got the better of me and I jumped ambled at the opportunity to test the Flex, Fitbit's latest tracker, to find out if my day-to-day activities render me slobby, sporty or somewhere in between.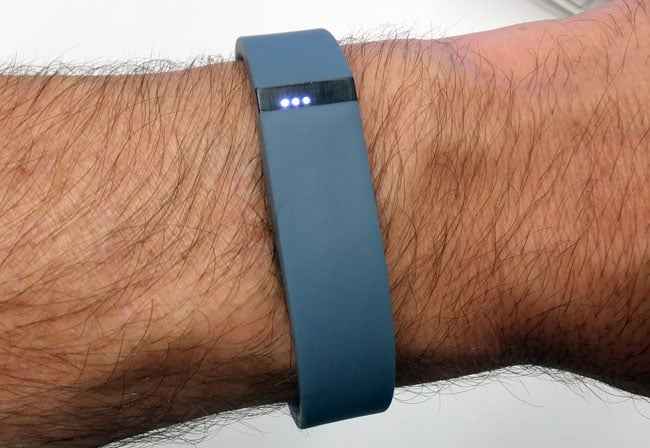 Fitbit Flex activity monitor: is 3 out of 5 so bad when it's only lunchtime?
Unlike previous Fitbit models, this one you actually strap to your wrist rather than clip to a belt or clothing. The device itself is so small and lightweight that it slots into the the rubber wristband, which works out nicely in a couple of ways.
First of all, Fitbit provides two straps of different sizes so you should manage a comfortable fit. Secondly, plopping out the gadget is easy enough for recharging in the provided cradle-cum-cable. Regarding the latter, the Flex tracker is a Bluetooth 4.0 device and will last for five days before needing a top-up.
A wireless dongle is supplied too, so getting this device hooked up to your computer to see some tracking results shouldn't be too much of a challenge. Naturally, there's an account set-up required before the fun starts and this process also detects your Fitbit so you can start clocking up your activity from the off. The Fitbit sync app for desktop is a bit fussy though, as you'll need the dongle regardless of whether you have a Bluetooth-enabled computer.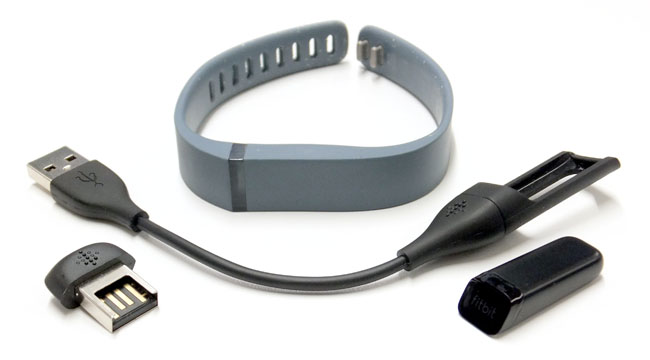 Fitbit bits: Flex wireless dongle, tracker, charging lead and strap
Although Fitbit has iOS and Android apps, which I'll come to later, the main set-up features are accessed from a web browser and appear as a dashboard of different fitness aspects. Before any of this can make sense you need to enter in your height, weight, gender and birth date. How much of this is relevant or just data-slurping nosiness is open to question.
And if you start nosing about yourself, you'll find various social media participation options that you might not want to be exposed to, as you covertly work off a few extra pounds. The Privacy section has over 20 different categories of information to share with all and sundry, friends or no one at all. Do you really need to share your sleep patterns? Are you in the mood to share your er, mood? Are you inclined to broadcast your underachievements? And so it goes on.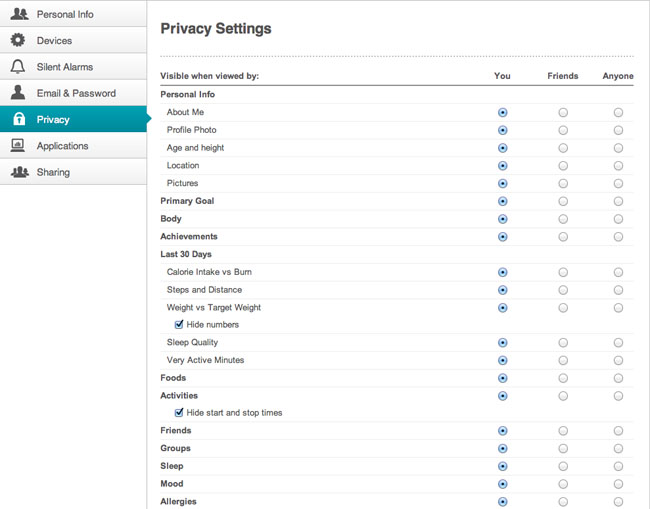 Do you feel like sharing?
OK, so the sporty folk out there are going to love this, especially if they're involved in some kind of competitive or team game. Comparing notes can be a motivating factor and even if you're not so sporty, knowing there are others out there sweating and suffering as you are can be a comfort of sorts.
Needless to say, the Sharing section can be set to Tweet your weekly and daily activity. Alternatively this exciting news can clutter up your pages on Facebook or Wordpress. You can even link your Fitbit account with Microsoft Health vault whatever that is – oh, it seems it's another way of telling everyone that you move around a bit sometimes. Dig a bit deeper and you'll see even the NHS is getting involved here.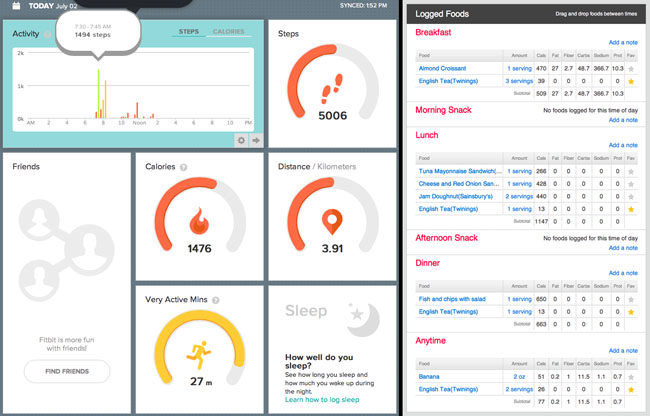 Dashboard and food logging – click for a larger image
Lest we forget that fitness isn't necessarily about staying lithe and lovely but it can be about a return to health from illness. This brings me on to the most tedious aspect of the Dashboard and, for many, probably the most significant: calorie counting.