This article is more than 1 year old
Fitbit Flex wristband: What to wear out when wearing yourself out
Google Glass, iWatch, activity monitor.... you're halfway to RoboCop
Grubbing about
Having been blessed with a fairly even-keeled metabolism I've never had to diet, so the idea of entering in my daily intake of food and drink was a bit of an eye-opener to begin with. The novelty soon wore off when it became apparent that none of the supermarket foodstuffs listed in the database related to any products sold in UK chains.
As so many products have calorific values on the the labelling, having this stuff available in a click or two is a breeze, but for UK users it's a matter of manually building up your own database of favourite foods, by scouring the packaging for information.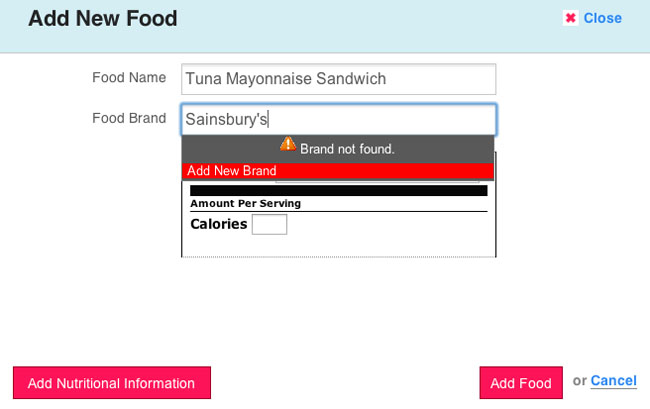 Brand-aware: having US food listings is no substitute for UK users, the only option is to enter in products manually
As for more natural produce, that's even worse. Here goes, so let's put in that I ate banana, that should be easy, right? Nope. Was that 100g of banana or something else? Jeez, like I know how much an individual banana weighs. And is that with or without the skin? Do people really weigh bananas without the skin?
What about home cooking? Just how fattening is my other half's highly noshable rhubarb crumble? Without getting down to weighing all those ingredients prior to cooking, I have no idea how else you work that one out. She's the sort of cook who goes by eye rather than weight anyway, so measuring out the constituent parts will only slow down proceedings and such interference is bound to tip the scales in an entirely different sense.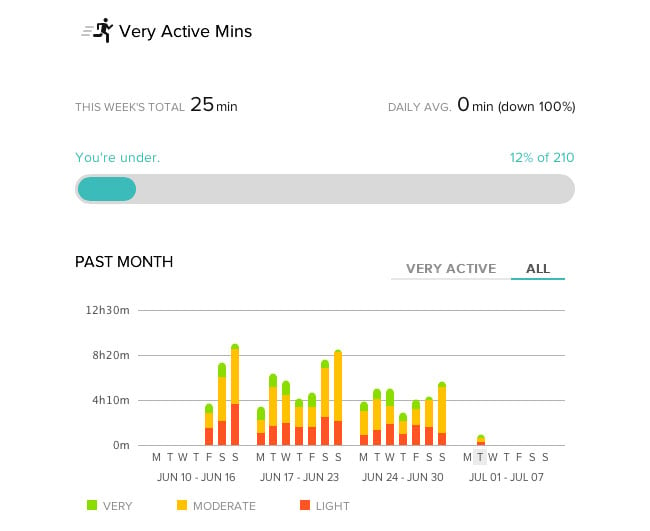 Look at him go...
I suppose this is just a new world for me and this meticulous mapping of meals is a necessary evil for dieting and, indeed, it appears to be an integral part of what the Fitbit is all about. It wants to know what you've ingested so it can calculate calories added versus calories taken away by exercise. With the latter, your movements are clocked up as steps and it presumes a certain amount of expended energy from this logged activity.
So what counts as activity? It seems the Fitbit isn't too discriminating here and unlike some trackers, the Flex doesn't count floors (steps you've climbed). The apps allow realtime monitoring and you can see that it clocks up movements that involve an element of vigorousness. Picking your nose probably won't stick but wiping your arse will probably make its mark.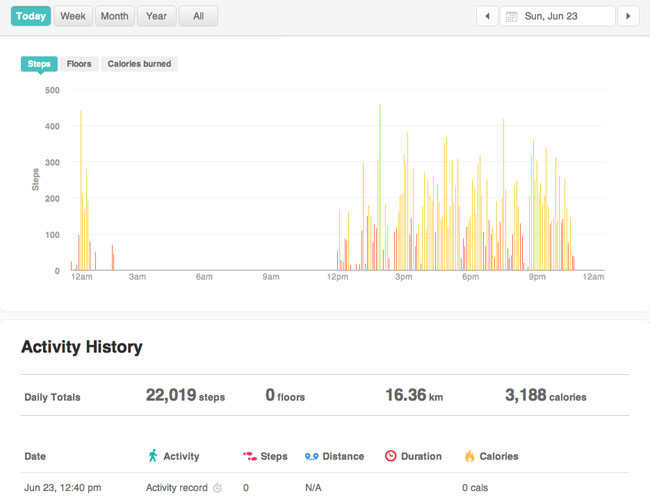 Your daily motions at your fingertips
Indeed, the notion that you have to be in motion to be expending energy doesn't suit yoga enthusiasts. While it may notch up most of Surya Namaskara (sun salutations), it certainly won't be aware of how knackering holding Adho Mukha Svanasana (downward dog) is for any length of time.
Still, having the Fitbit Flex monitor a lack of movement is put to good use with its sleep tracking. You have to tap the Fitbit repeatedly for a couple of seconds to enter sleep mode, and of course, you have to wear the darned thing in bed. It can convey sleep quality by your activity when you've finally nodded off – somnambulists might even want to set personal goals here. Alarms can be set too, as the Flex will vibrate when the time comes. That's not so bad, it's just the tapping furiously at the thing to stop it that's irksome when waking.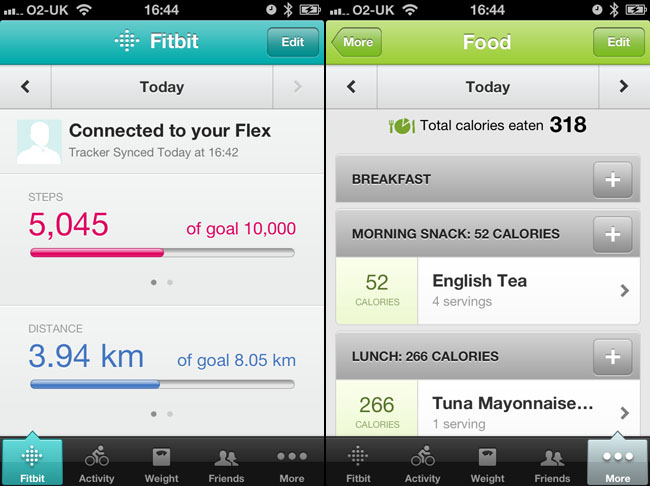 Fitbit Flex on the move with the iOS app that includes realtime monitoring and food logging
If you want to check on how close you are to your daily goals, a couple of taps on the Fitbit Flex will flash along a row of five white LEDs before settling on one or more of these to indicate your progress. The Fitbit defaults to 10,000 steps a day as a target and I exceeded this most days, doubling it several times during tests. It vibrates and can send you messages telling you how great you are when this happens. Aw, you shouldn't have.