Xyratex CEO: Don't judge us by our droopy revenues
Our 'core businesses are making money'
Xyratex's second quarter revenues were a third less than a year ago, as were its first quarter revenues. With sales to NetApp continuing to decline and income from the new ClusterStor array still not covering its costs, Xyratex is set to shrink further this year.
Revenues for the second calendar quarter were $216.2m, compared to $322.1m a year earlier; 11 per cent higher than the $195.6m recorded in Q1 2013. Don't take too much comfort from that, though, as in three of the last four years there has been a Q1 to Q2 rise in revenues, showing a seasonal pattern.
This year's first quarter revenues were 34 per cent lower than last year's, so we're seeing a steady decline of a third, year-on-year, in Xyratex's quarterly revenues so far this year.
The company managed to scrape a relatively tiny profit - it controlled its costs better - of just 1.34 per cent of revenues, at $2.9m. There was a $5.1m loss in the first quarter and a $7m profit a year ago, representing 2.2 per cent of revenues. This profit ends two quarters of losses.
Xyratex said the profit primarily reflects "a favourable variation in product mix in both our Enterprise Data Storage Solutions and Hard Disk Drive (HDD) Capital Equipment product segments."
A minor tweak, then.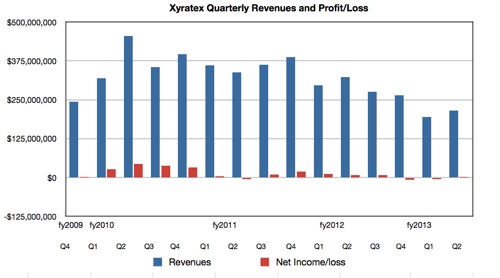 If the next two quarters show the same pattern of a third less revenue than a year ago then Xyratex's full 2013 year results will be around $774m compared to full year 2012's $1.16bn.
The company booted out its CEO Steve Barber in April, under pressure from activist investor Baker Street Capital Management. Ernie Sampias became interim CEO, a post he still holds, and Baker Street's Vadim Perelman joined Xyratex's board. A colleague at Baker Street, Ken Traub, has just been appointed to the board as well.
Baker Street has said in the past that Xyratex's development of its HPC ClusterStor array has been a waste of resources. So, now what are the new broom interim-CEO and Baker Street board guru saying?
Sampas's canned results statement talked of a detailed analysis of Xyratex business by himself, Perelman and Traub, and said this:
Our core businesses of Capital Equipment and Storage Solutions are both profitable and cash generative. I am encouraged by the longer term opportunities for growth in these businesses. The gradual revenue decline from our previously largest customer NetApp will cease after 2014 and this revenue is being replaced with new OEM business wins.

With our new ClusterStor product line, which addresses the HPC/Big Data marketplace, we have achieved incremental design wins, added a number of new customers in just the last 3 months and are on course to meet our revenue target of $60m in fiscal 2013. I am very encouraged that ClusterStor is approaching the inflection point where, as revenue ramps year over year, the product line can generate a positive contribution to the overall business.

I can also confirm that the Board is unanimously supportive of our long-term growth strategy.
In reference to another famous Baker Street resident, El Reg's storage desk says, "No shit, Sherlock."
Let's translate this guffery. Xyratex's mainstream Capital Equipment and Storage Solutions business units make money. The new ClusterStor business, derided in January by Baker Street, is now the key to future growth and investment in it continues. So why did the board get rid of Steve Barber if nothing's going to change?
Xyratex shares rose 1.54 per cent to $10.53 on news of the results; they have been languishing below $12.00 for most of the past twelve months, peaking at $12.79 in August 2012. They peaked at $17.74 last year and $19.91 in 2010. How is the existing board and interim CEO going to get the stock price back up to those giddy heights if they just stick with the steady-as-we-go strategy they're pursuing?
Sampias confirmed that a search is underway for a new permanent CEO. El Reg's storage desk speculates that this will continue only up to the point Xyratex is sold off in its entirety, or broken into bits and sold. Selling it in three bits - Capital Equipment, Storage Solutions, and ClusterStor - looks to be the likeliest option from where we sit. ®