Decade to 2010 was hottest, wettest: WMO
Records reveal a procession of records
---
Not only was the decade 2001-2010 characterised by extremes, according to the World Meteorological Organisation: there were more records broken in more places in the world than at any other time for which records exist.
The WMO's report, which should but probably won't put paid to the idea that warming has stopped, is announced here and the summary report is here.
The combination of increases both in sea temperatures (with a global temperature anomaly of +0.35°C) and land (+0.79°C) is visible in sea levels 20 cm higher than in 1880, the WMO states, with "accelerating net loss from the Greenland and Antarctic ice sheets and from the world's glaciers".
The northern hemisphere's combined land-sea warming for the decade is put at +0.6°C, with the southern hemisphere lagging somewhat at +0.33°C, the report states.
On a regional basis, the report states, "most areas of the world also experienced above average temperatures during the decade, particularly in 2010, when records were broken by over +1°C in some areas."
Some key statements of the report include:
Africa experienced warmer-than-normal conditions in every year of the decade
The largest country in South America, Brazil, recorded the continent's highest temperature anomaly value of + 0.74°C, making the decade the warmest on record there
From central America to Alaska, the combined anomaly was +0.5°C
While the whole of Oceania recorded just +0.34°C, Australia's decade was the warmest ever with a temperature anomaly of +.48°C.
The report assesses deaths from extreme weather events – including heat, cold, drought, storms and floods – at between 350,000 and 400,000 worldwide, in total 20 percent higher than the previous decade.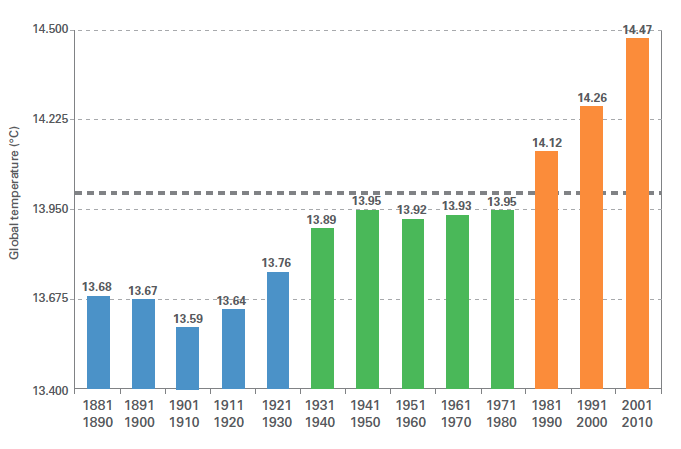 The WMO's assessment of global average temperatures, decade by decade.
Combined land-sea surface and air temperatures.
Sources: HadCRU, NCDC, NASA-GISS datasets.
The study finds that 56 countries reported record maximum temperatures in that decade. The report also seems to bear out old predictions that a warmer world would become globally wetter: "It was the wettest decade since 1901, except for the 1950s ... In addition, 2010 was the wettest year ever recorded at global level. The previous wettest years were 1956 and 2000, which, like the second half of 2010, coincided with strong La Niña events". ®