Quantum hands out 190 pink slips... quits making own tape library
Wants to focus on dedupe, cloud, object storage
---
Quantum has decided to quit the business of manufacturing its Scalar tape libraries, outsourcing the job, and laying off almost 200 people in its Colorado Springs facility, with more to follow overseas, according to a person who is close to the action.
This move follows five loss-making quarters and six years of declining revenues as Quantum's legacy tape business contracts and various growth initiative splutter and are yet to grow enough to compensate for the declining tape revenues. So costs have to be cut; it's inescapable.
Quantum provided this statement:
Quantum is moving to a fully outsourced model, as the non-tape part of our business (deduplication, virtualization, cloud, big data, and object storage) continues to grow, with more of our value-add coming through software.

Benchmark, which has been a manufacturing partner for more than a decade and already makes some of our tape libraries, will assume manufacturing and repair responsibility for our entire tape automation product line over the next six months.

Regrettably, our move to a fully outsourced model will result in the elimination of approximately 190 positions over the next six months … All but a few of these are in the USA.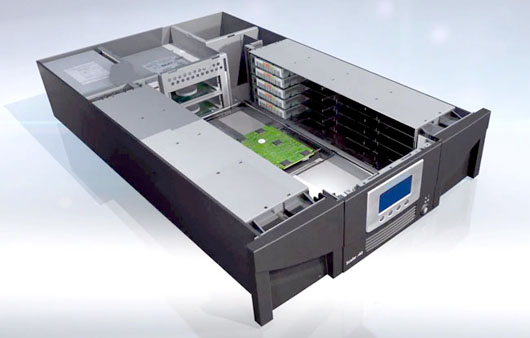 Scalar i40 tape library
Our source said that DXi manufacture would also be outsourced but no manufacturing partner has yet been selected. Quantum has said nothing to us about that.
The company laid off 50 people earlier this year. Activist investor Starboard Value is agitating for a substantial increase in shareholder value and board-level representation. Its presence on the scene will tend to sharpen Quantum's leadership focus on cost-efficiency. ®