Toshiba extends enormo flash fab, hopes to bust NAND capacity barrier
Boffins at Japan's Fab 5 will have to take subway... yes really
Toshiba has said it will expand its Fab 5 NAND fabrication plant at Yokkaichi Operations in Mie, Japan, following a SanDisk announcement about the same effort.
The massive Yokkaichi fab plant apparently has an underground monorail to shuttle material from one building to another, so the expansion would mean adding at least one more stop.
SanDisk and Toshiba have a flash foundry joint-venture. The aim is to transition to next-generation process technology, meaning, we understand something between the current 19nm technology and 10nm.
The expansion is also to pave the way to stacking NAND dice one atop the other, with the layers connected by vertical pipes or Vias, and so build 3D chips. This is a way to increase NAND chip capacity in the same floorspace, as it were, without moving to a new process technology.
In general new process technologies mean smaller cells which perform more slowly and have a shorter working life. It is thought that sub-10nm NAND cells may have such poor performance and endurance that nothing controller technologies can do will be able to offset this.
This gets in the way of producing NAND chips of greater capacity than the previous technology generation at acceptable speed and with acceptable endurance at an acceptable cost. This 3D NAND is a way, it is hoped, to get past the NAND capacity increase barrier represented by sub-10nm process geometry.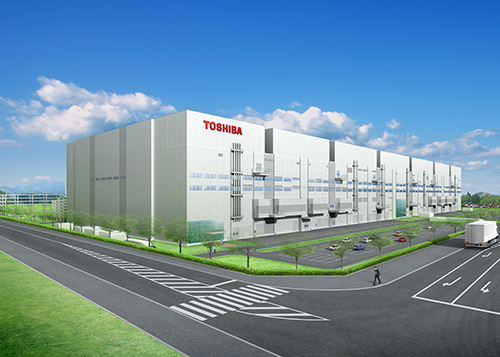 Artist's impression of Toshiba's Flash Fab 5.
We might expect other flash foundry operators, such as Hynix, Micron and Samsung, to announce their own foundry expansion initiatives, as long as they foresee no NAND supply glut problems ahead which would destroy their profitability. ®