Tony Lees, managing director of Avantek Computer Limited, wants to sell you your first and then your next hundred ARM servers. "This is our current plan: to take over the world with ARM," Lees tells El Reg with a laugh.
At the same time, however, Avantek is dead serious about joining the ARM army and fighting against the hegemony of the x86 architecture in the data center. To that end, engineers at Avantek – a profitable fifteen-year-old server maker located in Leicestershire, England – have welded together their first ARM server and are ready to sell you as many as you can buy.
Like many ARM server designs, the Avantek ARM machine is based on Calxeda's quad-core 32-bit ECX-1000 ARM processor. Avantek joins Boston in the UK and Penguin Computing in the US as suppliers of ARM servers using the Calxeda processors.
Original design manufacturers Gigabyte, Foxconn and Aaeon have also created machines based on the ECX-1000 chips in recent months. HP is cooking up a quad-node ECX-1000 board for its Moonshot 1500 chassis, and picked Calxeda's own EnergyCard quad-node server card for its initial "Redstone" Moonshot experimental machinesat the end of 2011. IBM has been quiet about ARM servers, and Dell has been dabbling here and there.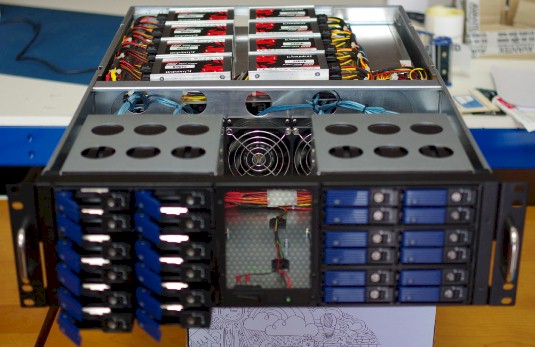 The Avantek ARM server with its skins peeled off
One of the big selling points for the Avantek ARM server, says Lees, is the on-chip interconnect. The ECX-1000 includes a distributed Layer 2 switch on the chip, thus obviating the need for external switches at the top of a rack.
That Fleet Service Fabric Switch interconnect has 80Gb/sec of aggregate bandwidth when scaled across 4,096 sockets, and the fabric can be used to link the nodes together in mesh, fat tree, butterfly tree, and 2D torus interconnections of system nodes. And with the next generation "Midway" Calxeda chips, due later this year based on the Cortex-A15, that interconnect will be goosed with finer-grained network control.
But wait, there's more: with the 64-bit "Lago" chips due in 2014, the third generation of fabric will scale to over 100,000 nodes on that distributed, on-chip switch, and will offer four times the performance of the original quad-core ECX-1000 chips.
Lees says that the low power profile of the ARM chip and the integrated networking is going to play well in England. "The key driver here has to be power," says Lees. "In the States, you are not so bothered, but in the UK, everyone is talking about power."
The assumption is that ARM systems – particularly those with on-chip networking – will be able to keep the performance per watt and cost per performance per watt lower than what Intel can deliver with its Atom or low-powered Xeon chips. This is not a foregone conclusion, given Chipzilla's process technology lead, which is one or two hops ahead of the contract wafer-bakers out there, but this is where the battle lines will be drawn.
The other battle lines will be drawn over the customization of processors, something that the ARM collective rejoices in, and that Intel will almost certainly have to offer on a wider scale than it currently does if it hopes to maintain its position in server and PC processing and get a better share of the smartphone and tablet markets.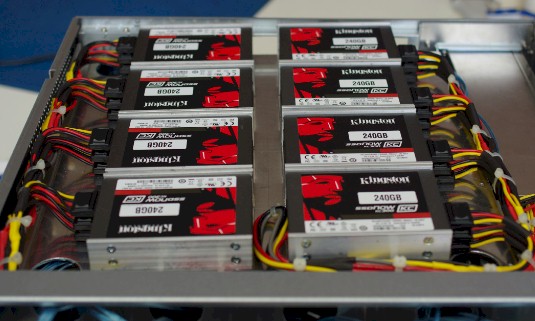 The internal storage assembly in the Avantek ARM server
Lees is going with the Calxeda chips for its first servers because it can get the devices in volume. When asked about Applied Micro Devices and its eight-core, 64-bit X-Gene processors, he says he is in no way in any kind of exclusive deal with Calxeda. But Lees is also taking a wait-and-see attitude with Applied Micro. "Everybody is talking about Applied Micro because they are waving around a 64-bit ARM chip," says Lees. "But waving it around is not the same thing as producing it."
Truer words were never spoken. And the onus is definitely on Applied Micro to make good on its plans for the X-Gene, delivering its eight-core variant this year and its sixteen-core variant next year with better networking on die.
The market would do well to root for Calxeda, Applied Micro, AMD, Texas Instruments, and Marvell to all make good on their ARM server chip promises, and hope that Samsung jumps into the fray, too.
The Avantek ARM server comes in a 3U chassis and is based on the original four-socket Calxeda EnergyCard boards. Those are the long, skinny ones that have one memory slot and four SATA ports per socket. Avantek is using a midplane that comes from Calxeda for now, which has a dozen EnergyCard slots, allowing for up to 48 nodes in the chassis. That's 192 cores running at 1.4GHz, and 192GB of memory balanced against it.
The machine has two dozen 2.5-inch hot-plug drives in the front of the chassis, and the storage assembly that sits above the processor cards has room for another two dozen 2.5-inch drives on the inside. Avantek has partnered with Kingston Technology to get its 240GB midrange solid state drives into the cages if you want a mix of disk and flash for those Calxeda chips. But the important thing is that this machine is more balanced than others, offering at least one disk per socket.
It would be better to have one disk per core, of course, and there are enough SATA ports on the EnergyCards to do this, but it is hard to cram all that storage into a reasonable space. But Lees says that Avantek is working on a follow-on 6U server that will have room for 72 3.5-inch disks, with each one having 4TB of capacity, to have up to 288TB of storage attached to the 48 nodes in the box. This will, he says, make a particularly good server for running Ceph object storage.
Oxford University is the first paying customer for the Avantek ARM server, which supports Red Hat Fedora or Ubuntu Server Linux. A base machine with four server cards and some disk drives will run around £4,000, with a fully loaded box with all the processor cards and a mix of disk and flash costing around £40,000. Avantek is distributing the machine throughout Europe and is pondering how to break into North America.
One last thing. Avantek is not daft. The company will continue making and selling servers based on Xeon and Opteron processors. For now, at least. ®