Hitachi Data Systems is thinking about optical storage; its director of strategy, Ken Wood, chaired a revival session on Optical Storage Technologies at the 2013 IEEE Massive Storage Conference held at the Queen Mary Hotel in Long Beach, California.
The Queen Mary Hotel is not a building but the old Cunard ocean liner of that name, now docked at Long Beach and used as a conference venue. She's permanently tied up and going nowhere; an apt symbol for optical storage, many would think.
Wood blogged about the event, and mentioned three presentations about optical media and libraries:
Optical Media Technical Roadmap: The Revival of Optical Storage, by Ken Wood himself
Optical Library System with Extended Error-Correction Coding for Long-Term Preservation by Hitachi's Akinobu Watanabe
Achieving 1000-year Data Persistence: "Engraved in Stone" by Doug Hansen of Millenniata
Among the take-away messages from these pitches were these points:
Ken Wood, director of strategy at Hitachi Data Systems
Wood said that modern DVD and Blu-ray drives can still play 31-year-old CDs like Billy Joel's "52nd Street," but consumer device playability reduces the risk of technological obsolescence. Only optically stored data survived Hurricane Katrina, he pointed out, and he views disk and tape storage as one, both being magnetic recording technologies.
Moreover, said Woods, optical disk is faster than tape and single-sided 128GB and dual-sided 256GB Blu-ray disks hold more data in less space - 0.8 cubic inches compared LTO-5 tape reel (13 cubic inches).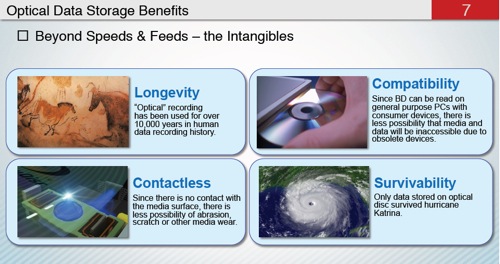 Slide from Ken Wood's deck
Akinobu Watanabe, embedded system software developer with HDS
Optical disc is preferable from a long-term preservation point of view, said Watanabe. It's superior to tape/HDD from a disaster resilience point of view, for example in flood or electromagnetic pulse situations. Building on Wood's earlier point about Hurricane Katrina, Watanabe said that almost all tape and HDD data was lost thanks to the hurricane but 98 per cent of optical disk data was recovered.
Blu-ray based archiving systems are suitable for the preservation of "cold data", said Watanabe, along with improved error checking and correction technologies to lengthen endurance.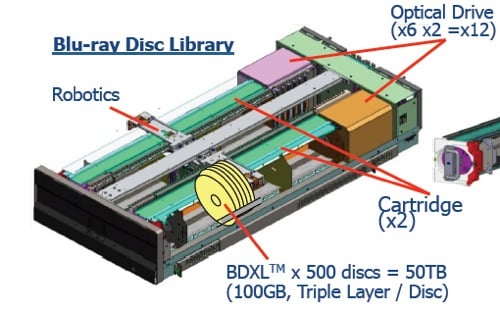 HLDS BD Optical Storage Library
HLDS is Hitachi-LG Data Storage, a joint company of Hitachi, LG Electronics, and Optical Vaults, in which Optical Vaults sells, integrates, and services the enterprise-class HLDS Blu-ray Disc (BD) Optical Archiving System. You have up to eight BD library enclosures in a rack and so get scale-out capacity and performance. Each 4U enclosure has a disk robot and 12 optical drives - effectively storing 50TB per enclosure using 500 100GB triple-layer Blu-ray disks. Each 42U rack can therefore hold 400TB.
Doug Hansen, CTO of Millenniata
He is the chief technology officer of Millenniata and talked about using rock-like materials for extraordinary endurance of 1,000 years.
If the bits aren't there when you read the disk, nothing else matters, said Hansen. The most successful examples of persistent data storage utilise inert or fully-reacted materials, such as iron oxide.
Optical is the only choice for fundamentally new materials, concluded Hansen, as it can make use of rock-like chemical structures.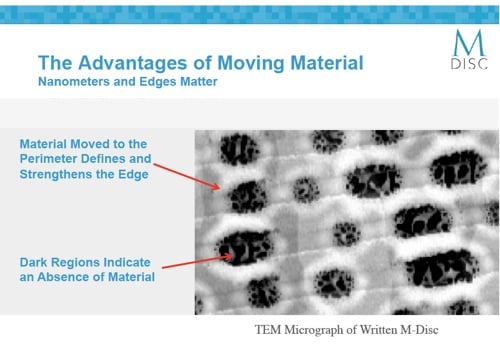 Tunnelling Electron Microscope image of written M-Disk
A DVD or Blu-ray disk base is used. The data deposition layer in an M-Disk is a rock-like inert chemical substance. The disk is read by laser. Various statistical analysis checks are used to verify its 1,000 year readability.
You can't pretend that either disk or tape storage can last for ten centuries. You can argue, though, that a 400TB Blu-ray disk rack is a pretty space-efficient and power-efficient way to house an archive. Is Blu-ray optical storage set to make an archival come-back or will it remain tied up to the shore of the storage sea, a relic of a past age like the Queen Mary liner herself? ®