Samsung Galaxy S3 explodes, turns young woman into 'burnt pig'
Trouser fire gives whole new meaning to 'hot pants'
---
A young Swiss woman reportedly received second and third degree burns when her Samsung Galaxy S3 smartphone exploded in her trousers.
According to a report in the French-language Le Matin of Lausanne, Switzerland, 18-year-old Fanny Schlatter was on her job as an apprentice painter, loading paint cans into her boss' truck, when her smartphone exploded in her trousers.
"All of a sudden I heard a sound of explosion-type firecracker," Schlatter said (according to Google Translate), "then I felt a strange chemical smell and my work pants began to catch fire."
The flames quickly grew, reaching Schlatter's shoulders. But luckily her hair was tied up and her sweater didn't have time to catch fire before her boss, Stéphane Kubler, rushed her into the bathroom of a nearby store and doused the flames with water, then drove her to a nearby medical center.
Despite Kubler's quick action, however, Schlatter sustained second and third degree burns on her thigh that were severe enough, Kubler recalls, to make her smell like a "burnt pig" – "cochon brûlé," to be exact.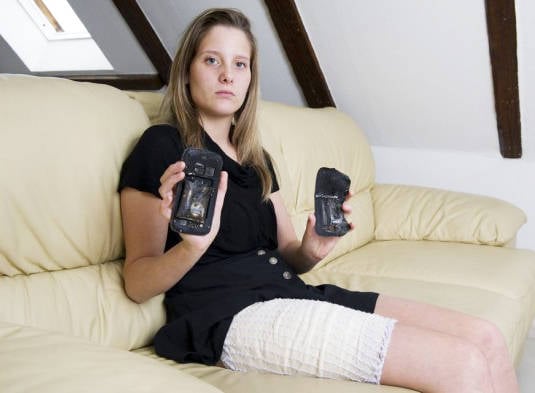 Well-bandaged, Fanny Schlatter faces rehab and tout le tralala! (source: Le Matin)
Schlatter now has no feeling in her right thigh and is on medical leave until August 15, so she'll have plenty of time to launch a planned criminal complaint (plainte pénale) against Samsung. Meanwhile, she says, it's "pommade, compresses et tout le tralala!" – and we're confident you don't need Google to help you translate that quote.
Schlatter's experience is not the only case of an exploding Samsung Galaxy S3. This May, a Reddit poster with the handle of "vizionx1208" reported that he or she was awakened in the middle of the night "by a loud noise and a weird squeaking sound."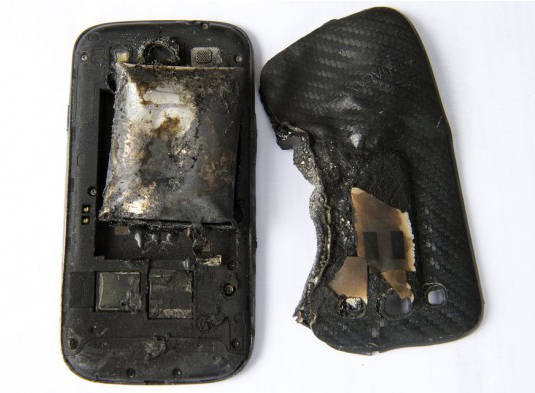 Schlatter's Samsung Galaxy S3, somewhat the worse for wear (source: Le Matin)
Vizionx1208 then "saw a ton of smoke coming out of my phone – it also smelled REALLY bad. Half asleep, I jumped out of bed and turned the light on, only to see that my phone was just beginning to go on fire." Quick-thinking vizionx1208 doused the Galaxy S3 with a glass of water, but not before vile-smelling smoke had "wafted through the entire second floor of my house."
Presumably, both Schlatter and vizionx1208 were victims of a lithium-ion battery fire, a not unknown hazard of that technology – just ask the designers of the Boeing 787 Dreamliner.
Or, for that matter, ask Apple, Dell, HP, LG, Nokia, one unfortunate motorist in the UK, one exceedingly unlucky man in Guangzhou, China, and another in Cheongwon, South Korea. ®
Similar topics
Narrower topics