This article is more than 1 year old
Italy scores in SPAAACE: ESA 'naut Parmitano pops out for walk
6 hours to juice Nauka, fix dodgy bits, grab experiments, snap AMS-02 and more
Two of the International Space Station's current batch of 'nauts are prepping for a six-and-a-half hour stroll in space to prep the orbiting craft for a new Russian module and run some repairs.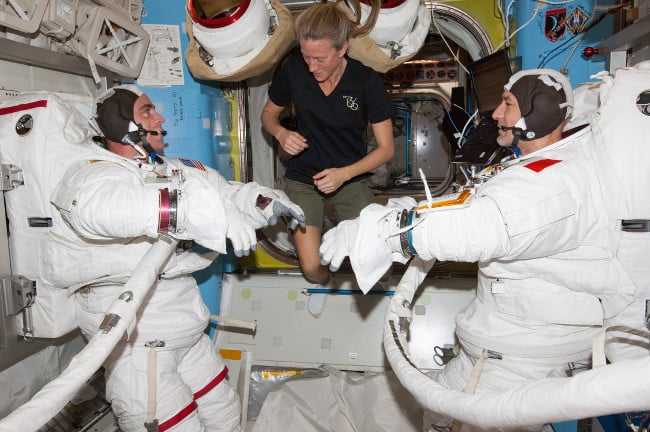 Chris Cassidy (L) and Luca Parmitano (R) prep for the spacewalk with Karen Nyberg
NASA's Chris Cassidy and ESA's Luca Parmitano are scheduled to step outside at 1.10pm BST today in a jaunt that will be shown on NASA TV.
Once outside, Cassidy will head for the top of the Z1 truss to remove and replace a Space-to-Ground Transmitter Receiver Controller for video and data communication that failed in December last year.
At the same time, the 36-year-old Italian will be at the Express Logistics Carrier-2 on the starboard truss segment, grabbing two experiments from the Materials ISS Experiment-8. The Optical Reflector Materials Experiment III (ORMatE-III) and the Payload Experiment Container, which look at the effects of space on materials and processor elements, are due to hitch a ride back to Earth aboard the SpaceX-3 commercial cargo craft later this year.
The Italian astronaut will also be snapping a pic of the Alpha Magnetic Spectrometer-02 (AMS-02) particle physics detector so boffins back home can check on its condition.
The 'nauts will also work together to move two Radiator Grapple Bars, used to help remove and replace failed thermal radiators, and stick one on the port side and the other on the starboard side so that they're positioned closer to hand for crew members.
During the replacement, Parmitano will use the Candarm-2 robotic arm, operated by Flight Engineer Karen Nyberg, to motor around the station and will get rid of a failed camera assembly on the arm while he's at it.
Cassidy will also route power cables to ready the station for the new Russian Multipurpose Laboratory Module scheduled to arrive at the station later this year. Nauka, as the new module is called, will be a research facility, docking port and airlock for future Russian spacewalks and will replace the old Pirs compartment.
The NASA astronaut will also start on the installation of two Z1 truss Y-bypass jumpers, which will be completed during the 16 July spacewalk. The jumpers provide power redundancy and stability for critical station components, allowing the crew to regain loads in the event of a loss of one of the power modules without having to go outside.
Finally, the busy space walkers will install a multi-layer insulation cover on the docking interface of the Pressurized Mating Adapter-2 mounted to the Harmony module. Cassidy, on his fifth spacewalk, will be in a US suit with red stripes, while Parmitano, who's heading into the cosmos for the first time and as the first Italian astronaut to walk in space, will be in a plain suit. ®