Maybe there's something in the water – or in the coffee – in Seattle that makes big companies create and maintain monopolies through aggressive pricing. First Microsoft with its Windows desktop and then server monopoly, and now Amazon Web Services with its unending price cuts on its infrastructure cloud.
The latest chopfest comes to the dedicated instances that AWS lets customers carve out of the EC2 compute cloud. On the normal EC2 cloud, you can do on-demand, reserved, or spot compute capacity buying, but you are on multi-tenant cloud and you have no control whatsoever of the noisy neighbors on the Xen hypervisor upon which you share a physical x86 server. With dedicated instances, Amazon cordons off a part of its server infrastructure and isolates your workloads solely on those machines. In some cases, such isolation is required by business practices or government regulations, and in many cases it is preferred. But as you might imagine, you pay a premium for having a set of physical servers all to your lonesome.
Retroactive to July 1, the price for dedicated instances has been cut rather dramatically. In a blog posting, AWS said that it has cut prices by as much as 80 per cent across its dedicated EC2 instances, which come in on-demand and reserved flavors but do not have spot pricing available.
Specifically, the per region fee for setting up dedicated servers has dropped from $10 per hour to $2 per hour; this fee is for the hassle of setting up dedicated virtual servers and you have to have at least one dedicated instance running in a region. The pricing for dedicated on-demand instances goes as high as 37 per cent off the prevailing price at the end of June; for example, the cost of an m1.xlarge instance in the US East region in Virginia costs 52.8 cents per hour, down from 84 cents per hour. Dedicated reserve instances received up to a 57 per cent price cut, says Amazon, on both the upfront fees you pay to reserve capacity ahead of time and the hourly usage fees for particular EC2 instance sizes. After the price cuts, dedicated reserved instances cost 65 per cent less than dedicated on-demand instances on EC2, so obviously Amazon wants you to buy some base capacity and then some flexible capacity on your dedicated iron.
This marks the 37th price cut that AWS has done on its various cloud services since in launched the EC2 cloud back in early 2006. And all public cloud providers are probably wondering how they are going to keep pace with the AWS price slice machine.
Here is a comparison of the normal and dedicated on-demand pricing for Amazon's own Linux implementation running on server slices in the US East region data centers after the price cut that was announced today: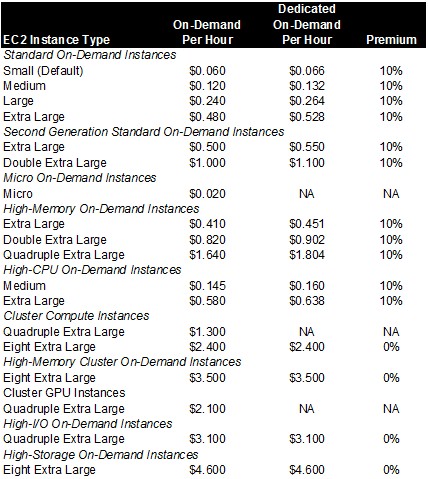 The premium for dedicated server slices on EC2 has come down to 10 per cent plus a per region fee.
The virty server slices on dedicated iron only command a 10 per cent premium after the price cuts, as you can see in the table above. El Reg did not have a snapshot of the prices before they were changed, so we don't know precisely how big the gap was for each instance type, but suffice it to say that it is a lot smaller than it was. And, given Amazon's history of price cutting, at some point raw EC2 capacity prices will drop, the gap will widen again, and if Amazon wants to encourage more customers for its dedicated iron, it will close the gap back up again. One thing for sure: AWS is always testing the elasticity of its pricing as well as the packaging of cloudy infrastructure and services that run atop it.
At the moment, neither Google's Compute Engine nor Microsoft's Windows Azure infrastructure clouds offers dedicated iron underneath their slices. You have to share on top of the hypervisor, like it or not.
Of course, some savvy Amazon customers just buy the fattest instances they can at the regular pricing, which more or less ensures that a big fat noisy neighbor can't get onto the same physical machine, and this is a rough and ready way to get the same result on Compute Engine or Windows Azure. (This does not necessarily meet with best practices or regulatory requirements at some companies, of course.)
Rackspace Hosting does not have dedicated iron for its Cloud Servers public cloud, but it could offer it. SoftLayer, which was just eaten by IBM for something rumored to be north of $2bn, has dedicated cloudy server instances.
If Amazon gets traction with dedicated EC2 instances, you can bet that more public cloud providers will mimic it. ®