BlackBerry's retro-look QWERTY Q5 mobe: Resentment by design
It was supposed to be BB10's mid-range mauler. What happened?
---
Review BlackBerry's second QWERTY-sporting BB10 device is a real puzzler.
BlackBerry has packed most of the horsepower of the first BB10 QWERTYphone, the Q10, in a cheaper package. And it performs almost as well, giving a slick experience with no judder or lag.
It also offers enterprises that scoop up BlackBerrys by the thousands a cheaper alternative that's just as functional, and brings BB10 within reach of punters willing to sign up to £25/month postpay contracts – or £330 SIM-free.
What's the puzzle, then? According to the official BlackBerry blurb, the Q5 is pitched at "youthful and fun" punters who are apparently "hyper-connected, ambitious multi-taskers". However, the combination of pricing and design ensures most won't consider it.
Like the original tinned Spam, or cod liver oil, the Q5 feels as if it was designed to be resented at the point of consumption. Almost everything that could have given the phone charm, character or distinctiveness was ruled out at the design stage. The cheap plasticky casing is really bargain basement.
Perhaps because it's a sealed unit (there's no removable battery) and sealed units typically enclose premium products, the effect is amplified. With its more expensive sibling, the Q10, BlackBerry has taken great care to make the punter glad about having one. Even the bundled Q10 headphones are quite nice. But the Q5 feels the exact opposite. After more than a week I still can't work out why there is no concession to style.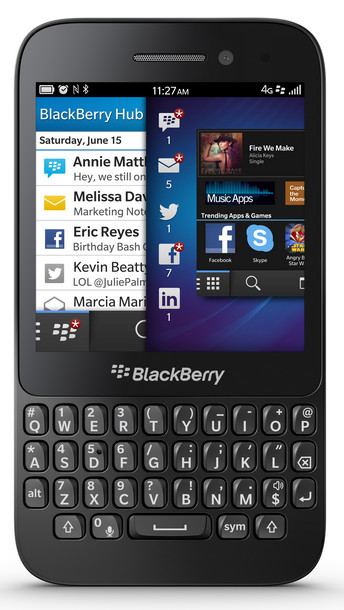 Thinking that a nice case might redeem it, I picked up the official BlackBerry soft case. The Q5 certainly felt more comfortable and familiar and less like something that had fallen out of a Corn Flakes packet. But the case made the Q5's flush plastic buttons hard to operate – the power button succeeding 50 per cent of the time and the volume keys about 10 per cent of the time. And that's with the official BlackBerry case.
The white version looks less cheap – and it comes in pink. If pink matters to you then perhaps the rest of the design doesn't.
On the positive side, this is a light device by today's standards. It feels much lighter than its 120g, as if it weren't a mere 19g lighter than the Q10. The sealed-in battery allows for a much slimmer phone.
Alicia Keys. Geddit?
This is the second new BlackBerry QWERTY device in 2013 – and you won't see many more this year. As with the Q10, the advantage comes not so much from text entry (I'll bet almost all of you reading this can now type as fast, or faster on glass). The advantage is that a keyboard provides many shortcut keys that can shave seconds off laborious tasks, and provide one-click navigation through others.
For example, I particularly liked being able to whizz through web pages with the browser's built-in reader function ("R") and the spacebar. Yet this keyboard, given BlackBerry's heritage, is not one of its best. The Bold 9900 and the Q10 had a firm springy action, but the Q5's too-hard, spaced out buttons are unforgiving, without enough travel.
With the Q5, BlackBerry decided to place a bezel (with the BlackBerry logo) between the top row of keys, and the bottom of the screen. This effectively makes it a two–handed device, because it puts the top of the screen just out of reach when held normally, and the bottom row of keys out of reach when you hold it to access the top of the screen.
I do have long fingers and I found it inconvenient, although the market may have got accustomed to gigantic phones, so perhaps it's a non-issue.
Software State of BB10
BB10 is BlackBerry's much-anticipated QNX-based mobile OS, launched in January. It's fair to say that BB10 is still "bedding in". It's currently on a rapid update cycle, with over-the-air updates rolling out almost monthly, if carriers permit it. (Vodafone leads here in the UK, with T-Mobile not far behind).
Parts of the BB10 experience are very good, particularly messaging. Others require some urgent attention. One of these, strangely, is messaging.
But on-screen text manipulation is currently the biggest headache, and an acute one for Q10 and Q5 users.
The old BlackBerry Trackpad was very good at accurately selecting and controlling characters on the screen, but this is no more. BB10 makes particularly heavy weather of text manipulation, and the user is required to tug a magnification balloon around the screen to compensate for the system's poor accuracy.
At times, such as in the example illustrated below, it's simply impossible to pull the caret into the position desired to carry out an edit if that position is at the edge of the screen. Here I was trying to edit the word 'Create', and place the cursor at the start of the sentence. I found this was impossible.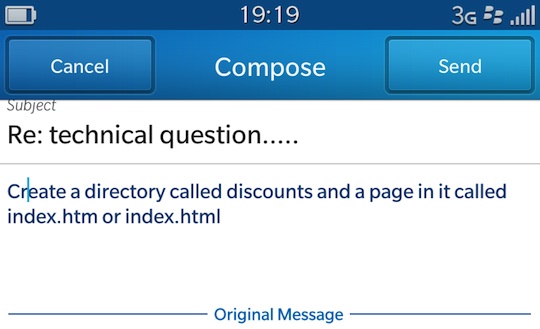 This part of the operating system is in a state of flux; between version 10.0 and 10.1 the ability to select words, paragraphs or all the text with multiple taps has been dropped. Hopefully accuracy will improve, requiring less use of the balloon. Heck, if an advertising company can get it nearly right, BlackBerry should be able to, too.
Meanwhile, BlackBerry makes much of the Hub, a message aggregator encompassing IM, email text and social networks… and device notifications. Yet after over five months using BB10 regularly, I can say I use it in spite of the Hub, not because of it.
Some basic messaging tasks - for example navigating sequentially through a mailbox - are tedious, because you must return to the Hub after each message. Even the cumbersome iPhone – which is nobody's idea of a top-quality messaging device - has always enabled this.
And the Peek gesture – allowing you to view recent incoming messages and return you to your last task in one step – is a nice idea, but it rarely works as the Demo Gods intended. If you've left a message open, that's what you'll see, not the most recent received. There's no single, system-wide gesture for "view most recent incoming". I found myself wishing the bezel had one.
BlackBerry appears to have made a rod for its own back by choosing an eccentric set of gestures, and as things settle down, I hope it does not become a prisoner of this design. Far too often the user is moving things out of the way.
To ameliorate the effects of these peculiar design choices, BlackBerry now obliges you to sit through some tutorials and even overlays the screen with a signpost which is quite hard to remove.
Another sign of the system's immaturity has been some wild variations in battery performance between updates. The Z10 update just prior to 10.1 gave it astonishing battery life, taking the phone into a second day. Now it's exhausted by the evening.
Another issue is that daemon-style services - which should have no more UI than a control panel setting - must be running in an "Active Frame"; they can't operate "headless" as background services should. And since there cannot be anymore than eight Frames open, less frequently used services are closed down by the system.
Then there are features older 'Berry users will want, but find are missing: the software engineers are restoring those as fast as they can. These include areas such as fine-grained alerts (notifications present a more difficult task). Other features will never return, including BIS, the consumer BlackBerry internet service.
The app market is not just barren of quality native apps, but actually quite pitiful, with no quality control exerted. When your reviewer took a look, it was awash with scams.
What's to like, then? Q5's up-side
None of this must sound promising. To enter the market at this late stage, with such a radical design, seems suicidal. What's to like, then? Why would you even consider it?
As I explained in my Q10 review, BlackBerry devices are workhorses. Once you've mounted the familiarity hurdle, the Q5 is fast and fairly dependable. RIM once ran a "Tools Not Toys" advertisement in response to the iPhone – which at the time was perceived as a terrible mistake. But some of us appreciate phones doing a few things well.
For example, after I start an email on a Mac, the phone holds an up-to-date draft at the top of the hub that I can complete on the go. This works for IMAP as well as Exchange/Outlook mail. Call quality was excellent, and the battery saw me into a second day. And the feature formerly known as "Type and Go" but now apparently called "Instant Action" is very handy: from anywhere, you can swipe up and start to type a message, for example: "sms fred" – and it will drill into your address book and drop you into the message editor.
Enterprises need secure messaging, and they'll also appreciate the ability to partition the device into work and personal workspaces. Corporate data is inaccessible when the device is used in "Personal" mode but the user can easily switch between them.
Using these features depends on BB10. The OS does offer a pretty slick as well as secure BBM service, however, with video calling and screen sharing available to all.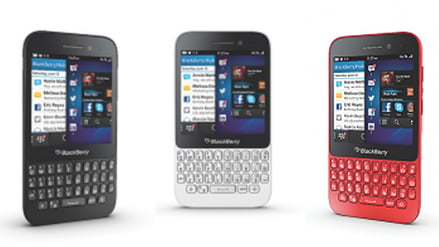 BlackBerry Q5. Pink model not shown.
The Q5 makes all this a little more affordable: it's a fully capable LTE phone and the screen is excellent a 720x720 3.1 inch square (that works out at 329ppi) and text is very readable in sunlight.
The Q5 (specs here) has a slightly slower processor (1.2Ghz dual core) than the Q10 (specs here) and less (8GB) storage, although this can be expanded up to 64GB via a microSD card. It loses the Q10's HDMI port. And the camera is no great shakes, although the UI, which gets you to some editing functions, is very nice.
BlackBerry is actively encouraging Android developers to port their apps, and the 10.2 update later this year should allow 4.2 JellyBean apps to run. Improvements to the run-time giving these apps access to native code should see some performance yields in the long run.
Some Android apps can be sideloaded as a last resort, but the 1:1 aspect ratio of the Q5 prevents some from running, and it's a bit hit-and-miss. Rapid conversions, such as the Times app, also offer a less than stellar experience. Users must take a chance that things will improve considerably. A native Evernote is apparently on its way, and the Skype conversion is improving.
But huge gaps remain, with prominent media brands (Spotify, NetFlix, Sky and Virgin) and banks staying away.
BlackBerry also needs to improve its Link software, used to manage backup and sync devices on a Mac or PC. It's ambitious, at least: it can update several devices wirelessly (or connected via USB) at once. But it's also buggy, slow and poorly designed: you can't select multiple playlists manually, but must drag each one across individually. Every time. I experienced frequent crashes on Windows, and it sends even a modern Mac into overdrive.
Conclusion
All in all, the Q5 is a workhorse with an OS still in its early days. I suspect the "ambitious" and "youthful" crowd won't be getting a Q5 out of choice - it's still too expensive. It needs to be on a £20/month contract to be considered, and they'll be after something classier if they can afford it. Priced alongside last year's Galaxy S3 for example, it's hard to see who in that target market would opt for this drab offering.
The beloved BIS, which piped email and BBM to a BlackBerry subscriber for a flat rate, is gone, and isn't coming back. Very shortly one will no longer need to buy a BlackBerry to tap into the previously exclusive BBM social network. For enterprises, particularly those with a sunken investment in BlackBerry Enterprise Server and corporate apps, it's a more solid choice. Shame about the unforgiving keyboard. ®

BlackBerry's retro-look QWERTY Q5 mobe: Resentment by design
It's a workhorse, but could have been a lot more stylish... Oh - and BB10 is still "bedding in"
Price:
£25/month on contract or around £330/$500 SIM-free RRP
Similar topics
Narrower topics