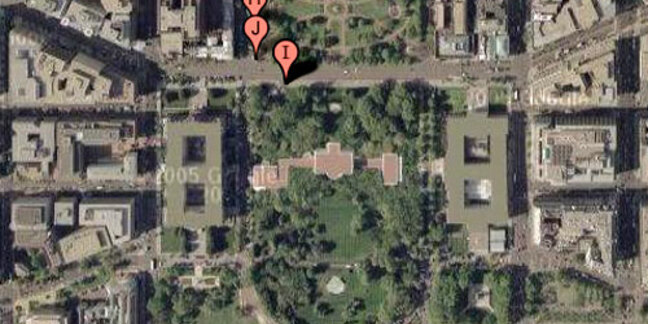 Google is rolling out an upgrade to its Android Maps app that redesigns local search, and adds dynamic traffic reports along with a partnership with reviewers at Zagat. But this comes with a cost; Latitude is being abruptly shut down 30 days from now, and Google says that "The offline maps feature for Android is also no longer available."
With this release, the app now has a local Explore feature that suggests nearby shops and services (and Zagat ratings when available), and it'll also recommend local deals from Google's retail partners such as Macy's and Toys"R"Us. All this data is stored off the map itself – so you can see where you're going – and is accessed by swiping up from the base of the smartphone screen.
The new traffic-management software now has accident-warning reports in real time and dynamic rerouting if traffic conditions change significantly. Google plans to add more features thanks to its recent Waze buy, but this code is Google's own, a spokeswoman confirmed.
The offline Maps function is also being changed. Currently users can download maps of cities and location and cache them on the phone for offline perusal. With the new app, users select a map area (be it city, borough, or neighborhood,) and save a street map of that locale.
My Maps, the feature to create personalized cartography with annotations, is being suspended with the new app but will return in later builds, Google said.
The new Maps application is only available for Android 4.0 users and above (that's 61.2 per cent of devices, according to Google's latest stats), and Apple users are going to have to wait a while. There will be a version released for iOS 6 "when available," Google says.
The Chocolate Factory has also announced that Latitude, its answer to Foursquare, which lets users share their location with friends, is being shut down for Android and iOS users on August 9, and that the Latitude API and the Latitude website will be going away, as well. Latitude Friends lists will be deleted, but third-party apps that use its data will keep any downloads taken before the 30-day deadline expires.
Latitude was launched in 2009 to capitalize on the fad for declaring your location to all and sundry. While this is easy to do, it's difficult to make it pay, as Foursquare's backers are finding out. But Google was adding features to Latitude as recently as February, and the decision to cut off service so abruptly will discomfort some.
Latitude was never wildly popular, but is used by more than a few developers who will now have to scrabble over the coming month. Foursquare will no doubt be happy to help out, which will make it an even more attractive partner for Apple.
In the meantime not to worry, says Google. If you are that keen to let people know where you are at all times, Google+ has location-sharing built in. Maybe someone will see it. ®
Sponsored: Webcast: Simplify data protection on AWS