This article is more than 1 year old
Acer Iconia W3: The first 8-inch Windows 8 Pro tablet
Microsoft's latest in its tiniest hardware package yet
Review Microsoft has been hinting at smaller tablets running full Windows 8 for months, and with the arrival of the Iconia W3, an 8.1-inch Windows 8 fondleslab from Acer, we finally have a taste of what those look like. Unfortunately, the result is a mixed bag.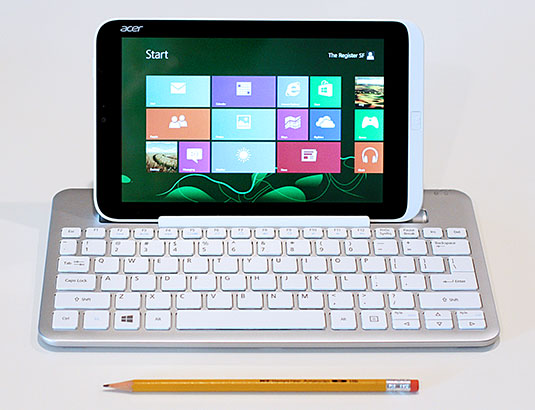 The tiny Acer Iconia W3, shown here dwarfed by its keyboard stand (sold separately)
It's no secret that Windows tablets have been selling poorly compared to Apple's iPad line and the various Android alternatives. One theory for Redmond's weak showing was that the Surface and other Windows tablets were overshadowed by the success of the iPad Mini, released at a time when all Windows 8 slabs had displays of ten inches or larger.
But while devices that are more portable may be what consumers want, Acer's Iconia W3 only serves to demonstrate that Windows 8, in its current form, is still clunky compared to competing tablet platforms, and shoehorning it into a pint-sized device does it few favors.
What's more, Windows 8 shortcomings are only compounded when running on a device with middling hardware specs, which unfortunately is the case for this first showing from Acer.
Underwhelming hardware
As smaller tablets go, the Iconia W3 feels comfortable enough. Weighing in at 1.10 pounds (499g) and 0.4 inches (10.2mm) thick, it fits right in between smaller Android tablets such as the Nexus 7 and earlier, 10-inch Windows 8 tablets, such as the Microsoft Surface.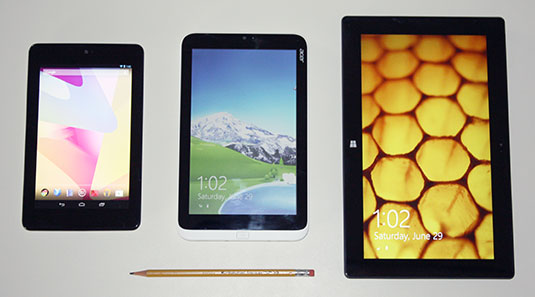 Left to right (above) and top to bottom (below): Asus Nexus 7, Acer Iconia W3, Microsoft Surface Pro
Unfortunately, the W3's overall build quality doesn't feel up to par with either of those devices. Clearly under price pressures, Acer has cut a few corners, resulting in a tablet with a plastic body that feels cheaply made even though it's a little heftier than some other offerings.
The W3's display is its biggest disappointment. The 1280-by-800 resolution panel is bright enough, but its viewing angles aren't great and its washed-out colors look lousy. The display's coating also gives everything a grainy, speckled look that's none too attractive, particularly when you have to hold the screen close to your face to read tiny text.
Why Acer would spec such a low-quality panel is beyond me, particularly when the Iconia W3's raison d'être seems to be to prove that tablets with smaller screens can perform just as well as their larger cousins. But there you have it.
The device's other specs, while adequate, are hardly stunning. My unit came with a dual-core Intel Atom Z2760 processor clocked at 1.8GHz, but the versions now on sale are being advertised as having 1.5GHz chips.
The lower clock speed should help with battery life – I only seemed to get six of the promised eight hours – but its performance won't impress anybody. Even my 1.8GHz version seemed sluggish at times, but I'll get more into that later.
The W3 comes with 2GB of RAM and mine shipped with 64GB of flash storage, although a 32GB version is also available. Adjusted for the boot and recovery partitions and with Microsoft Office 2013 installed, however, mine reported just "34.0GB free of 49.3GB," so the 32GB model is likely to feel a little cramped.
Note, though, that you can also increase the total storage by adding a microSD card. The Iconia W3's specs claim it can handle cards up to 32GB.
As can be expected these days, the tablet comes with front and rear cameras, though both seem mediocre. They might be good enough for video chats, but still shots come out grainy and pixelated, particularly under low-light conditions.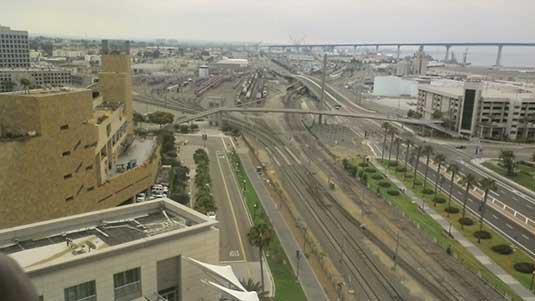 It was a hazy day, but not that hazy: notice how poorly the Iconia W3's rear camera resolved
the trains in the distance. This is no tablet for photographers. (Click to enlarge)
On the plus side, the tablet's 802.11b/g/n radio seems to work well enough, and Wi-Fi did not let me down during a recent hotel stay.