Acer Iconia W3: The first 8-inch Windows 8 Pro tablet
Microsoft's latest in its tiniest hardware package yet
Peering into tiny, tiny Windows
I've used Windows 8 almost exclusively since it launched last October, on both PCs and tablets, so getting up to speed on the Iconia W3 was no problem. Still, I found myself a bit spoiled by my experiences with small Android tablets in some minor respects.
Most notably, the Iconia W3 charges using an old-school AC adapter, rather than through the micro-USB port. While that's typical of Windows tablets, it means you have one more thing to remember to bring with you on trips. Charging your tablet with the same cable you use to charge your phone is just far more convenient, especially with a small device like this.
I also missed being able to quickly transfer movies, MP3s, and other files from PCs over USB, as I can do with Android devices. Again, Windows provides other ways to do this (microSD cards being the most obvious), but with a portable device it's nice to be able to do things the quick-n-dirty way when you're in a hurry.
Unfortunately, this sense of stumbling over minor roadblocks has been my overall experience with Windows 8 tablets, as compared to the competition. Windows 8's schizophrenic tablet/desktop personality takes some getting used to, and a small tablet really drives home the impression that Microsoft's latest OS is neither fish nor fowl.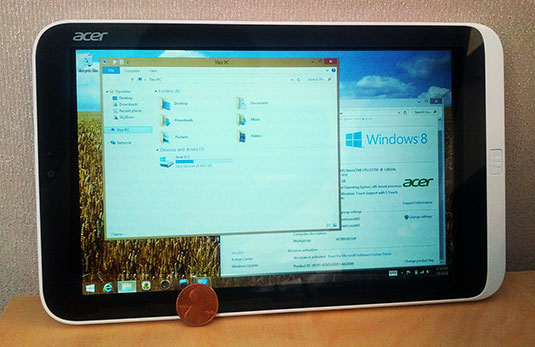 It's hard to appreciate just how tiny Windows 8 desktop controls are on an 8.1-inch screen until you see
them in person. Note the US penny at the bottom of the display; the year reads 1975 (Click to enlarge)
The tablet part works OK, but it doesn't feel as natural or intuitive as dedicated iOS or Android fondleslabs do. The desktop part, on the other hand, is a minor disaster on a tablet, and that goes double on a device like the Iconia W3, with a screen the size of a pocket paperback.
You'll notice just how cramped Windows 8 feels on the W3's small display the first time you pull up the device's onscreen keyboard, which takes up about half the screen real estate in landscape mode. You may find you need to slide dialog boxes all the way up to the top of the screen just to see the fields you're trying to type into.
Productivity? Sure, some
Acer has bundled a free copy of Office Home & Student 2013 with every Iconia W3, something Microsoft says will be typical of Windows 8 fondleslabs with screens under eight inches. Unfortunately, nowhere are the limitations of the Iconia W3's diminutive display more evident than when running Office.
Despite some meager attempts to update it for touch devices, Office remains fundamentally a desktop productivity suite, and working with it on the Acer's small screen can be an exercise in frustration.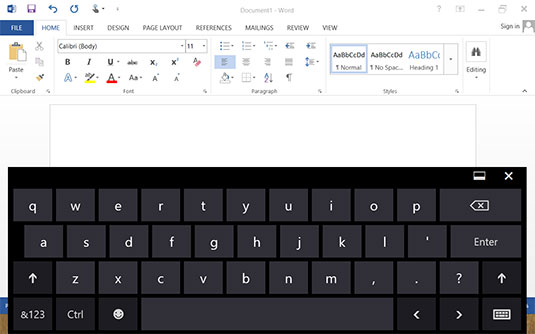 Small wonder Microsoft held off on releasing small tablets. Windows 8 isn't ideal for little screens
Technically, what comes preinstalled is the Office Click-to-Run launcher, based on the same technology used to distribute the Office applications to Office 365 subscribers. The first time you run it, you'll need to enter a Product Key that Acer has included on a card in the box, after which the suite will download and install itself (so you'll need a healthy internet connection for this first launch).
Once it's installed, however, W3 users are likely to realize that a free copy of Office isn't such a great bonus, given that almost no effort has been made to adapt it to the tablet environment. Office's touch controls are inadequate for small screens, and you'll need fingertips like needles to access some of the menu options. While you can use pinch-to-zoom to increase the size of the text you're typing, other menus and controls always remain the same size – and here they're positively puny.
Web browsing on such a tiny Windows tablet isn't much fun, either. Chrome and Firefox are both awkward on Windows 8 touch devices – Chrome is the worst of all, sadly – making Internet Explorer the best option out of the box (something I never thought I'd say).
Also, because the Iconia W3 runs full Windows 8, web servers tend to send you the full desktop versions of their sites, which can be hard to navigate on a device with an 8.1-inch touchscreen. I occasionally found myself stabbing at onscreen controls repeatedly, to no avail, and many sites' layouts just felt awkward.
Browsing the web seemed to give the W3's Atom processor some trouble, as well. Open a few windows and the browser would start to exhibit unexplained pauses, during which controls would become unresponsive. Flash video, in particular, seemed prone to stutter, stall, and occasionally crash.
Given that web browsing is presumably one of the main uses for any such device, this was a disappointment, although it's possible these problems will stabilize with future software or firmware updates.