Acer Iconia W3: The first 8-inch Windows 8 Pro tablet
Microsoft's latest in its tiniest hardware package yet
Add-ons and accessories
In keeping with PC OEMs' habit, Acer has also loaded up the Iconia W3 with a bunch of Windows Store apps, including such popular apps as Amazon, Encyclopedia Britannica, Hulu Plus, Netflix, and Skype. I wasn't that interested in many of them, but they're included mainly as a convenience and there's nothing to prevent you from uninstalling them.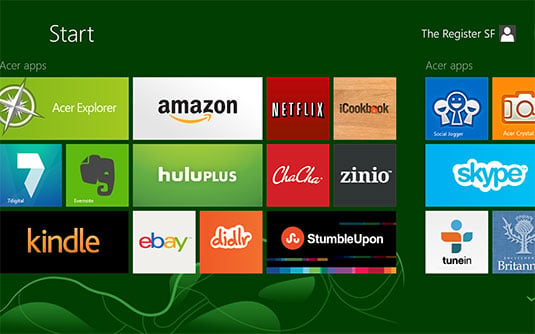 Acer's preinstalled Windows 8 apps don't offer much value, but as bloatware goes they're a minor nuisance
Acer's own cloud storage apps for photos, music, and documents are also included, but they seem mostly redundant given the tight integration between Windows 8, Office 2013, and SkyDrive. Still, I guess you can't blame Acer for trying.
One thing that did make using the Iconia W3 a little easier was the keyboard/stand accessory that came along with my review model. I say "stand" because it's hardly a dock – it provides no AC power pass-through and doesn't plug into the tablet in any way. It just provides a little cradle stand into which the W3 fits comfortably.
The keyboard itself is a bog-standard Bluetooth affair with the usual complement of Windows keys and no touchpad or other pointing device. It runs on two AAA batteries, so you'll want to remember to carry an extra pair in your travel bag along with the W3's dedicated AC adapter.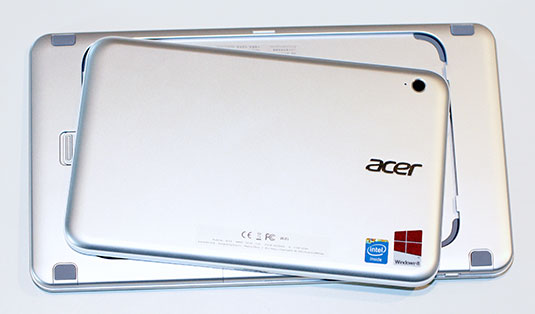 The optional keyboard doubles as a carrying case, but a clamshell design might have been nicer
If anything, the keyboard's build quality feels even a little worse than that of the tablet itself. It does include one neat feature, however: a concave back that allows you to snap the tablet into it to protect the screen during transit. There's nothing to protect the keyboard itself, though, as the keys are left exposed on the other side.
The Reg verdict
Overall, the Acer Iconia W3 is a respectable little machine that offers a lot of computing power in a small package. While Acer has hobbled its potential somewhat by cutting corners in its manufacture, I was able to use it for all my light computing work while traveling recently, including some work for which a phone would have been inadequate.
Unfortunately, many of the W3's problems relate not so much to the hardware as to the fact that it runs an OS that's still best suited to desktop PCs and devices with larger touchscreens. Windows 8's tablet experience simply isn't as smooth and natural as the experience on iOS or Android devices, and its problems only worsen when it's running on a small device with specs outside its original purview.
Incidentally, installing the Windows 8.1 Preview didn't do much to smooth the bumpy ride, either. About the only significant UI improvements in 8.1 from a tablet perspective are the improved onscreen keyboard and the ability to view two Windows Store apps onscreen at once. (Stock Windows 8 only allows one app onscreen at a time on small displays, and Windows 8.1 may revert to this behavior by the time it ships.)
As a small device for watching movies, reading ebooks, and the like, the W3 will probably do fine (though I was concerned about its spotty Flash video performance). But there are plenty of other options available if media consumption is all you want a tablet for.
On the other hand, it wasn't so long ago that ultra-mobile PCs (UMPCs) running full Windows were retailing for $1,200 or even more. If you've ever been in the market for a highly portable device that packs the full power of Windows, then Acer's price tag of $379.99 (£280/€329) for the 32GB Iconia W3 or $429.99 (£324/€379) for the 64GB version should turn your head.
And the Acer Iconia W3 is only the first such device to hit the market. As other vendors follow suit, it will be interesting to see if they can produce small Windows 8 devices that feel a little more high-end than what Acer has delivered.
But even if they do, most users will probably find Windows 8 simply too frustrating on a tiny screen for such small devices to reach a mass audience. If Microsoft is hoping that smaller displays would reverse Windows' fortunes in the tablet market, I strongly suspect it's in for another disappointment. ®

Acer Iconia W3: The first 8-inch Windows 8 Pro tablet
Acer is first to market with an eight-inch tablet running full Windows 8 Pro, but mediocre build quality and a frustrating OS hamper its user experience.
Price:
32GB version: $380 (£280), 64GB version: $430 (£324) RRP