Apple has filed a patent application for a method of cladding rare-earth magnets that could enable portable electronics to become refrigerator magnets and iWatch elements.
The filing, "Unibody Magnet", notes that the standard coatings for rare-earth magnets such as those made from neodymium are not necessarily compatible with the appearance of consumer electronics devices.
Neodymium magnets are commonly composed of neodymium, boron, and iron, and thus need to be coated not only because they are brittle, but also because the iron will oxidize if exposed.
There's one problem with the standard neodymium coatings, however: they don't harmonize with Apple's design aesthetic.
"Therefore," the filing contends, "what is desired is a magnet surface coating which can be adapted to match the overall look, shape, and feel of the device to which it is attached."
The filing describes the use of aluminum as a coating, including using cutting tools such as "diamond saws, and wire electronic discharge machining" to shape neodymium magnets into precise configurations that can be fitted into matched receptacles in unibody aluminum device cases such as those used in Apple's MacBooks and iPads.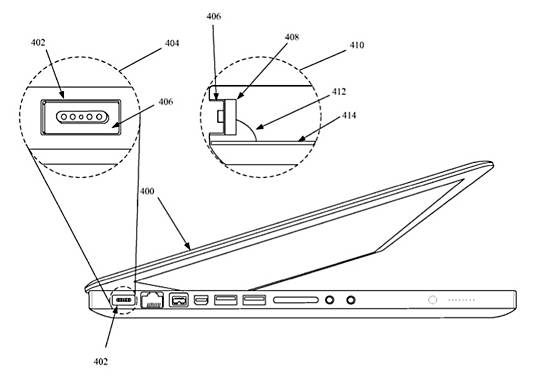 If the MagSafe port can be all aluminum, 'any aesthetic necessity for obscuring the magnet is now overcome'
"Unibody Magnet" goes on to detail the use of such techniques in the MacBook's MagSafe break-away power port and the iPad's Smart Cover. But it also provides a glimpse of other possible uses when the magnetic field is distributed over the whole of a device's rear surface.
Doing so, the filing says, could allow the device to be magnetically attached to "a number of different surfaces, including for example, refrigerators, metallic armbands, or even a wall mounted docking station."
No specific mention is made of a wristband, so possibly the "metallic armband" is intended to be your bicep's home to an iPod or future fitness-training iDevice. But after all, your wrist is part of your arm, and one could envision different "embodiments", in patentese, wherein different iWatch elements with different functions could be magnetically attached to a wristband.
But the most intriguing possibility is that of an iPad or iPad mini that slaps onto your fridge. Wouldn't your life be more complete with slide shows of your kid's photos, your family's to-do list, or Emeril Lagasse's recipes stuck on your Frigidaire?
Too bad for the culinary fashonistas whose refrigerators are clad in non-magnetic austenitic stainless steel – they're going to miss out on all the iPad-mounted fun. ®
Similar topics