The Yawhg vs XCOM: Enemy Unknown. How small devs can win against the big boys
Damn this fondleslab!
Game Theory As far as the recipe for a successful new gaming genre would go, the combination of an essentially text-based role-playing adventure with a beery party game would seem very wide of the mark. Crunching stats and hardcore partying hardly seem to go together.
Colour me wrong, however, for in Emily Carroll and Damian Sommer's PC-based The Yawhg both game types come together with some cute cartoon graphics perfectly. It makes for a short - it's only a little over £8, though - but beautifully judged adventure that will not only work out differently on subsequent runs, but will also raise a smile as it goes.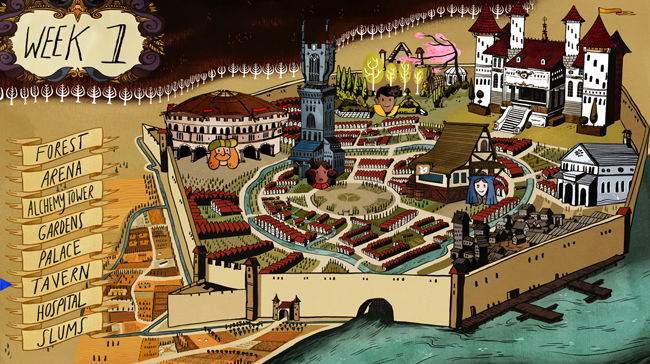 Where will you go today?
Up to four players assume the roles of ordinary medieval townsfolk living their lives blissfully unaware that their town is but six short days away from Yawhg-induced destruction. The Yawhg – whether a monstrous beast or a force of nature isn't made clear – is an inexorable MacGuffin that will destroy the town no matter how you play.
What you can do, however, is develop your character so that he or she might be of some use in the aftermath of the Yawhg's visitation. To that end you'll guide your intrepid burgher into any number of activities: tending to the sick in the local hospital one day, competing in the town's gladiatorial arena the next.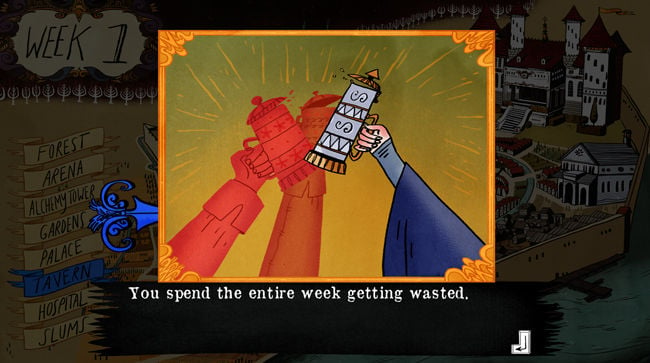 A wasted week?
Such undertakings increase - or reduce - your character's stats: physique, finesse, mind, charm, magic and wealth. Taking to the arena, for example, might develop your physique. But then, depending on your current stats and which of the multiple-choice decisions you make, you might end up getting whacked on the head which will diminish your mind score.
The clever part of The Yawhg's scripting is that, in the above arena scenario, a replay might not necessarily yield the same story and offered choices of action. So you can't predict just what skills might change during any given day.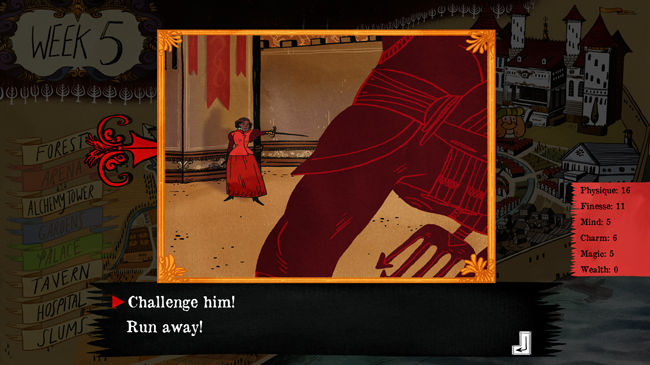 Fighting fantasy
Indeed, the writing and programming is such that there's a plethora of outcomes to what you may encounter each day, with one day's events changing what may happen the next, thereby fundamentally altering your character's development across each game.
Add in the fact that your turn might directly affect one of your friend's characters - or vice verse - by, say, unleashing a demon that they later encounter, and you begin to see just how statistics might just about come together with party play.
Inevitably, once your six short days are done, it's the turn of the Yawhg to do its thing. The devastation leads to one further choice: what will your role be in the ruins? With wise decision making it's here where the overarching theme of tragedy might just be overcome and green shoots of recovery sprouted. Just don't be surprised to find your character dead from disease, famine or even addiction - play it and you'll see what I mean.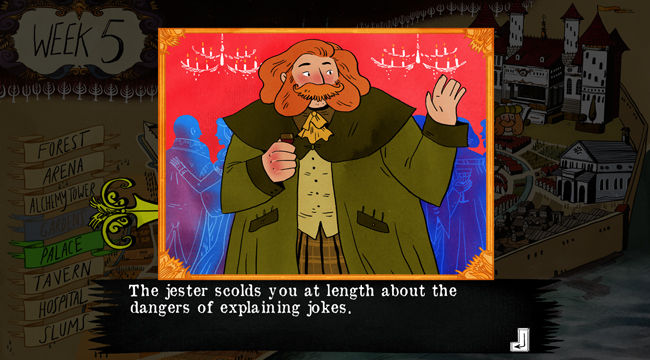 Always play the joker
The Yawhg is yet another fine example of an indie developer taking an unlikely concept and running with it. There's a certain charm, even sadness, in its brief adventure - not least thanks to the haunting soundtrack and the way early events and choices come back into play later. But equally there's humour here too, particularly when played with chums over a beer.