Samsung takes mobile net traffic crown from Apple
Bad news for Redmond as Chrome conquers IE and Windows 8 doesn't rate
---
Samsung devices are now the world's dominant source of mobile internet traffic, after web-watching outfit StatCounter revealed that in June 2013 the Korean concern conquered Cupertino.
In a report (PDF) styled to set up competition for browser share as an epic conflict, the researchers say "Samsung has seen its internet usage rise to 25.47%, just ahead of Apple (25.09%). Nokia has dropped to third place globally on 21.96%. BlackBerry (formerly RIM) has declined over 12 months from 5.0% to 3.62%."
Perhaps more interesting than those raw numbers is that Samsung has achieved that level of traffic with only 18.3% of US mobile traffic and 20.45% of UK traffic (Apple has 54.84% of US traffic and 47.97% in the UK, both decent increases over previous traffic levels).
Where's the rest coming from? Probably Europe and almost certainly Asia. Both markets contain plenty of nations well-suited to Samsung's broad range of smartphones, especially those with lower price tags than the iPhone commands around the world.
StatCounter's Mobile browser prevalence data tells a similar story: Android's browser leads globally, but Safari spanks it in the USA and UK. Opera has 16.06% market share around the world, a sign all those deals it cut with feature-and-semi-smart-phone makers give it broad reach.
On the operating system front, the research shows Android rules the world, but that Nokia's semi-smartphone OS S40 is growing market share.
The report also touches on desktop browsers, finding that Google's Chrome has for the first time topped Internet Explorer among US users. The graph below shows the global trend towards Chrome. The big dip in IE use it depicts from April 2013 is even sharper in the US-only version of the graph.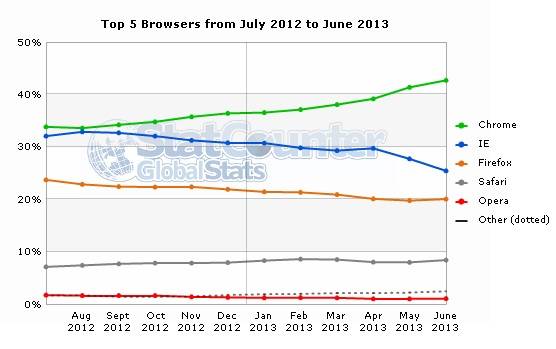 Also in PC-land, the study finds Windows 7 is the dominant source of online traffic, followed by Windows XP. The report says "Windows 8 is gaining traction (5.94%) and in June 2013 overtook Vista (5.4%)." But neither of Redmond's unloved operating systems is generating as much traffic as MacOS, which generated 7.43% of the world's internet traffic over the last year.
Linux looks to be the source of one or two per cent of traffic. ®