Western Digital gobbles VeloBit in flash cache cash splash dash
Buying into flash gig again
Western Digital is buying flash cache software startup VeloBit and its HyperCache product technology.
HyperCache accelerates information access by relying on banks of fast RAM and putting a compressed copy of highly active data stored on disk into SSDs or any other kind of flash. The algorithms for doing this are said to lead the industry in their effectiveness. The company was co-founded by CEO Duncan McCallum and chief technology officer Qing Yang in September 2010. There are three products:
VeloBit HyperCache (on Linux) introduced in Q1 2012
VeloBit HyperCache (on Windows/Hyper‐V) introduced in Q4 2012
VeloBit vBoost (for VDI) in March 2013.
As of March this year VeloBit software has been installed in more than 500 systems worldwide, we're told.
Like sTec which WD announced it was proposing buying for $340 million less than a month ago, VeloBit will be absorbed into WD subsidiary HGST.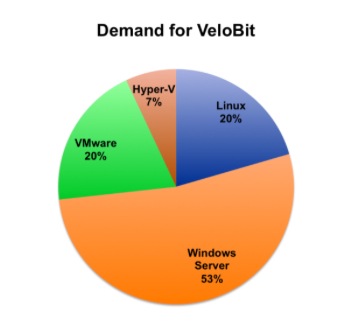 Demand for each of VeloBit's products as a percentage share
VeloBit is privately owned and was funded partly by an A-round in June 2011, which brought in a undisclosed amount. The cost of VeloBit to WD is undisclosed as well. We think it's less than $50m and could be around $25m assuming a 5X payout on a guesstimated $5m A-round. But we could be out by a factor of two, or even more.
HGST president Mike Cordano provided a canned piece of quotery: "The acquisition of VeloBit is an important step in our strategy to develop robust software capabilities to augment our successful SSD product portfolio."
The now-richer Duncan McCallum said: "In HGST we have found the ideal partner to continue to develop our ground-breaking caching, compression, and cache coherence technology."
Cache coherence refers to synchronising content shared across multiple servers. HGST has an interest in the server PCIe flash card area.
Ambitious storage companies with flash interests have been building or buying their own flash cache software and this list includes:
EMC's VFCache
Fusion-io's ioTurbine
LSI CacheCade
QLogic FabricCache
NetApp's FlashAccel
OCZ's SANRAD
Samsung's NVELO
SanDisk FlashSoft
Seagate/Virident's vFAS storage memory software
HGST will have sTec's EnhanceIO caching software if that acquisition goes ahead. Startups such as Cachebox are actively developing products as well.
This acquisition shows the momentum of WD's flash storage intentions and we here at El Reg's storage desk await with interest WD rival Seagate's reaction, anticipating a tit-for-tat event or two. ®