This article is more than 1 year old
Hubble spots ALIEN NAVY world – and it's pelted with GLASS RAIN
Whoops, missed out a comma there
Pic NASA's Hubble space telescope has found another deep blue planet in space - but the inhospitable world is not a watery orb like Earth, but a scorching rock pelted with glass rain.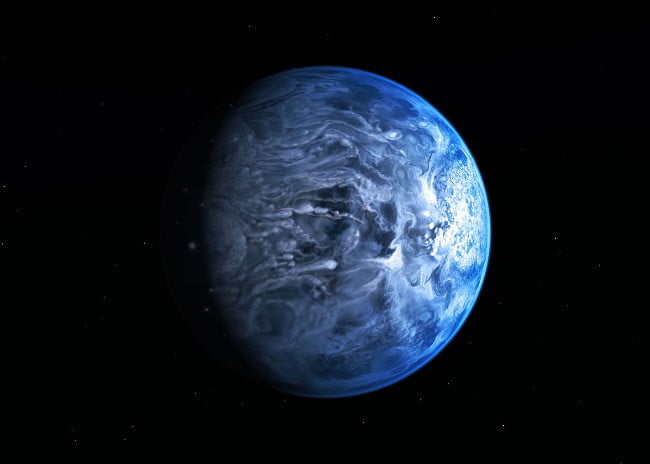 You blue-ty ... Artist's impression of deep blue planet HD 189733b, presumably because it's too far away to snap in high-def
(Credit: NASA, ESA, M. Kornmesser)
Astroboffins have figured out that the true colour of the planet is blue using visible-light observations taken by Hubble's Imaging Spectograph as the globe moved around its star 63 light years away.
"We saw the light becoming less bright in the blue but not in the green or red. Light was missing in the blue but not in the red when it was hidden," said researcher Frederic Pont of the University of Exeter. "This means that the object that disappeared was blue."
However, the mysterious world - catchily named HD 189733b - isn't a waterlogged home, but a hellish alien body with daytime temperatures of nearly 1,100 degrees Centigrade (2,000°F) and possibly glass rain that howls across the surface sideways in 7,000kmph (4,300mph) winds. The blue colour comes from a hazy atmosphere of high clouds laced with silicate particles, which condense in the heat to potentially form the drops of glass rain.
The planet is doubly interesting for being in the unusual "hot Jupiter" class of world that orbits precariously close to its star and having such a bizarre atmosphere.
"We obviously don't know much on the physics and climatology of silicate clouds, so we are exploring a new domain of atmospheric physics," Pont said.
Orbiting just 2.9 million miles from its sun, the planet, which was first spotted by scientists in 2005, is so close that it's "tidally locked" - one side always faces the star and the other is always dark.
In 2007, the Spitzer Space Telescope measured HD 189733b's infrared light, producing one of the first ever temperature maps of an exoplanet. It showed that the dayside and nightside temperatures differed by around 260°C (500°F), which would cause fierce winds to roar from day to night, driving the sideways glass rain.
But it's difficult for boffins to know exactly what causes a planet's colour, even in our own solar system. Scientists are still unsure exactly why Jupiter is reddish and Venus doesn't reflect ultraviolet light, but boffins don't know what is absorbing the UV in its atmosphere. ®