This article is more than 1 year old
Boeing batteries back under spotlight as 787 burns at Heathrow
Second British Dreamliner returns to base with 'technical fault'
Boeing has suffered an unfortunate double-whammy after problems with two of its 787 Dreamliner aircraft in the UK on Friday.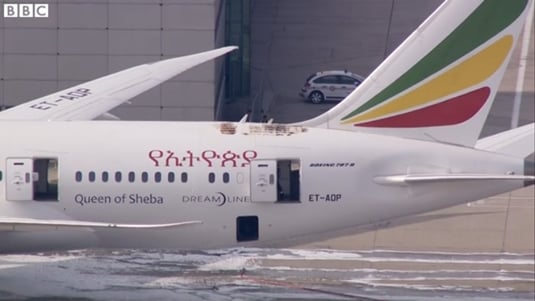 Fire damage near the 787's tail
London's Heathrow Airport was shut for over an hour on Friday evening after an Ethiopian Airlines 787 caught fire while parked at its stand. A second 787 belonging to Thomson, the first British carrier to fly Boeing's latest aircraft, had its flight to Florida aborted and the passengers returned to Manchester after it suffered "technical issues."
In the first incident, the Ethiopian Airlines aircraft, named Queen of Sheba, was empty of passengers and crew, but the blaze caused air traffic controllers to shut both runways as a precaution until the fire was brought under control with flame-retardant chemicals. The world's third busiest airport (behind Beijing and Atlanta) was back online by 6pm UTC.
"We're aware of the event. We have Boeing personnel on the ground at Heathrow and are working to fully understand and address this," a Boeing spokesman told the BBC.
It's unfortunate timing for Boeing, coming less than three months after the 787 was allowed to fly again after problems with burning batteries. The aircraft was grounded globally in January after two Japanese airlines had problems with overheating power units; a Japan Airlines jet burned at Boston airport and batteries started smoking during an All Nippon Airways flight.
The problem appeared to come from auxiliary power units that are normally used to run essential electrical systems when the engines are off. Boeing suggested a fix for the issue in April that was approved by the FAA, and on April 27, Ethiopian Airlines led Boeing's return to the skies.
It was a troubling wait for Boeing. The Dreamliner is its star airframe; a lightweight aircraft with fuel-efficient engines that saves weight by replacing physical control systems with electrical ones. The past battery problems don't appear to have affected flight control systems, although a fire on an aircraft is something every airline is at pains to avoid.
"The Boeing 787 Dreamliner forms an important part of many of our airlines' future plans, and it is vital that the cause of this fire is established as quickly as possible," said the British pilots' union BALPA. "All parties in the industry need a full and transparent explanation as to what has been identified as the root causes in this series of events."
It's a crucial time for Boeing. The company has 66 of its 787's in the skies at the moment, but nearly a thousand on the order books. Its customers have been getting fractious over the issues with the aircraft and Wall Street has its doubts too. Boeing's stock dropped sharply in morning trading before rising to end the day around 5 per cent down. ®