This article is more than 1 year old
LG's curvy telly and Samsung's Galaxy camera seen in the wild
Goodbye phonecam, hello camphone
Pics A hands on with LG's new TV and a Samsung camera that doubles up as an Android phone? Is this Christmas in July?
Not really, it's a PR thing, would you believe. It's when all the products the hardware makers slavishly promoted earlier in the year are laid bare for the press to fondle, as a reminder of what punters may be tempted to buy come the festive season. Yes, we're writing about Crimbo just before what's predicted to be the hottest day of the year so far.
During these tech showcase days, every now and again you see something you weren't expecting - and at the Currys/PC World event yesterday, all assembled were pretty chuffed to be showing off the curvy LG 55EA9800 OLED telly an Xbox One and Samsung's Galaxy camphone, rather than phone cam.
Yes, it's a full blown APS-C camera that has 3G, Wi-Fi and you can Skype from it too, apparently.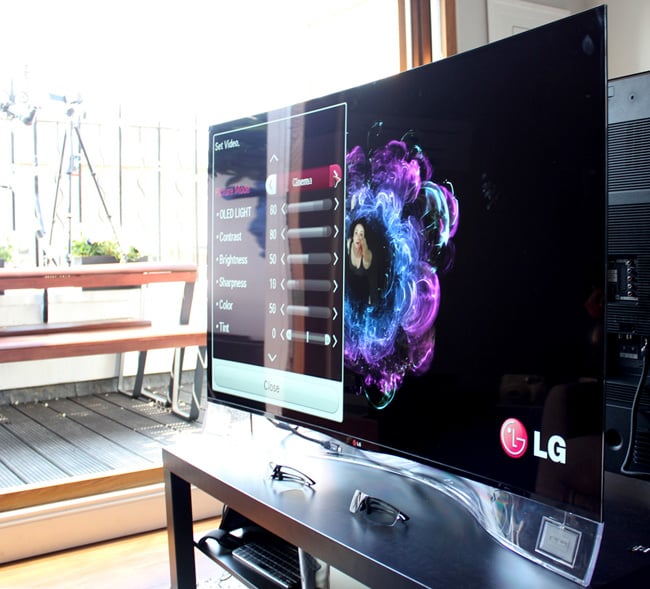 Warped thinking: LG's 55EA9800 OLED curved TV gives better viewing angles, apparently
Thanks to Steve May at Inside CI for the pic
But first, that telly. Even though this HD set was back-to-back with a Sony 4K set, it stole the show by sheer novelty value. The combination of curvature and being amazingly slim at 4.3mm certainly catches your eye before you get to view the screen. Glance a little further down and like most slim panel tellies you'll notice a bulge round the back. Given the shape, all the clever stuff is housed in carbon fibre along with the interfacing.
The set itself can't be wall-mounted, instead the 55in curved panel is set into a likewise curved transparent base which also houses the speakers. LG's new Clear Speaker tech adorns the front bottom corners – trumpeting the treble – with bassier downward firing drivers out of sight.
Whatever you think about 3D, LG was right to bet on passive TVs given the low cost of specs compared to the active shutter alternative. Ushered to sit through the latest in 3D demos, the stylish lightweight glasses didn't dim the picture significantly. That said, the screen was pretty close and the various party tricks the 3D footage performed soon had me feeling cross-eyed.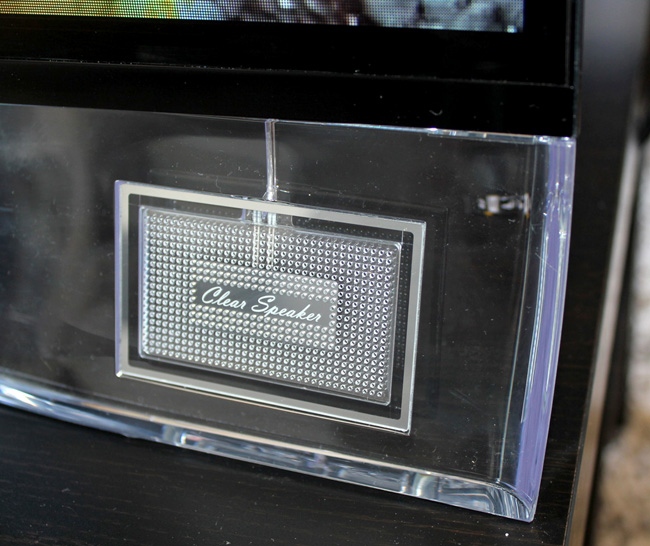 LG's Clear Speaker tech is embedded in the moulded plastic base
Thanks to Steve May at Inside CI for the pic
Still, it was certainly a very lush picture, with intense colours and robust blacks. The sound wasn't too bad either, which considering you could barely move for lengthy straight soundbars at the event, is no bad thing. Pricing has yet to be confirmed but the LG 55EA9800 will be in the shops at Christmas and then probably in the January sales thereafter, if the figure of £9000 that's been bandied about holds true. Alas, large OLED panel prices are still a tad on the high side.
As for the Xbox One, it's significantly smaller than previous models and sat underneath the TV for a while, but wasn't coming out to play.
Wi-Fi and GPS are rapidly becoming standard fare on consumer compact cameras these days. For a year or so, Android has been making inroads here with Nikon's Coolpix S800C claiming to be the first on the shelves equipped with the OS. We joked at the time that all this Coolpix needed was a phone. Evidently someone at Samsung took us seriously.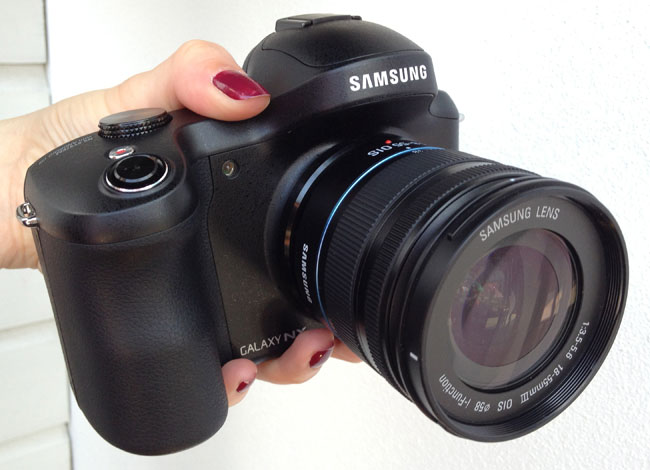 Samsung EK-GN120 Galaxy camera heralds the compact system conversation piece
From a photographic standpoint, the EK-GN120 or Samsung Galaxy camera is based around the NX lens mount. So by association it's part of the company's fully-fledged system camera range with a swathe of lenses to choose from. It also benefits from an APS-C 20Mp sensor akin to that on the NX200 (reviewed) and NX300 compacts, the handgrip battery bulge also lends it some slight similarities
That said, the Galaxy camera features an electronic viewfinder, so you're not completely reliant on the touchscreen display for shooting.
The back of the EK-GN120 is almost entirely given over to the 4.8in display, which does make you wonder if the camera part is just some fancy case clipped over a Samsung smartphone, especially as it's not an articulating screen either. It's certainly is quite a size and when camera makers add touchscreens, then it's bad news for those who like to use buttons to navigate photographic functions. Just a plain dial and buttons for still and video capture adorn the top plate.
Start up is swifter than I'd anticipated but I was thinking 'phone' rather than 'camera', so be prepared to wait a couple of seconds or so. A mode dial appears on the right and various icons dotted around for stills, video and settings. Getting around can be a bit confusing but after a few random swipes and the back icon (not so easy to spot in bright conditions) you soon get the hang of things and can end up in Android land with familiar apps aplenty at your fingertips.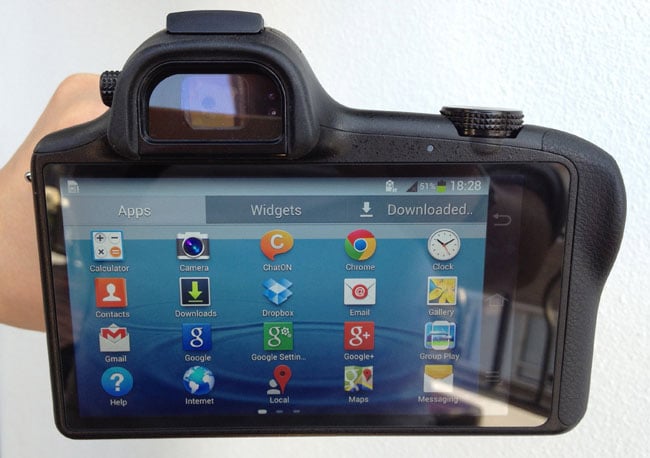 Snap and app appeal
There are no clues on price just yet but will it also be stocked by cellcos too, as well as camera retailers? After all, the EK-GN120 Galaxy camera accepts a Sim for 3G comms, has a speaker and a mic too for video, so it seems possible that you could make phone calls from this snapper, given the right app. For now, though, the Skype option seems the simplest way to make that photo call. ®