This article is more than 1 year old
Is it a BIRD? Is it a plane? Right first time – and she's in SPANDEX
Huawei's superheroine Purple Reign upstages new mobe
Pics In a pop-up shop in Shoreditch, two rubber-clad hotties are snogging in front of a small audience of pretty PR people. It might sound like an average Saturday night for the racier denizens of this uber-hip part of London but it is, in fact, a tenuous marketing ploy for the Huawei Ascend P2, a flash new smartphone from the world's biggest telecoms maker.
The kinkily-dressed couple are in London town to give a few speeches to discuss their lives as genuine superheroes and explain why they've decided to roam the streets of their home city of Seattle, in Washington, US, dealing out rough justice to any bad guys they come across. They're engaging in a spot of tonsil tennis before going on stage to explain their bizarre lives as well, which is nice.
It's entirely unclear what all this has to do with the Chinese state-linked mobile phone manufacturer's new gizmo, but El Reg is there because we were promised lycra-clad ladies of the night (in the crime-fighting sense) and muscle-bound nutjobs in spandex. Phoenix Jones and his lover, sidekick and muse Purple Reign didn't disappoint.
"We're all about fixing things, finding creative solutions to problems," Phoenix explains. "We use the symbolism of the superhero to fight crime, but also to inspire other people to do good. We're certainly not vigilantes."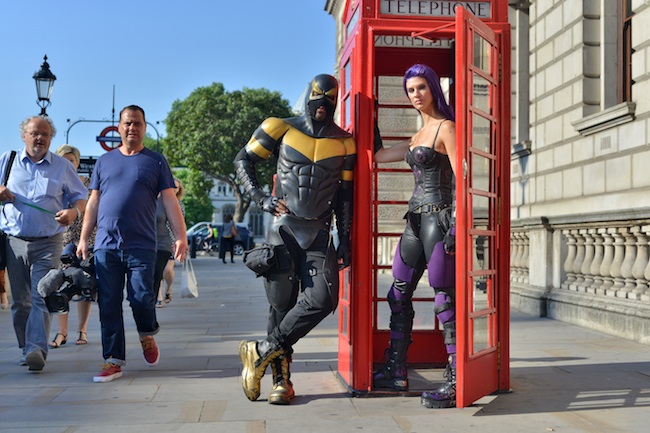 Real life superheroes Phoenix Jones and Purple Reign are in the UK to launch the world's fastest smartphone, the Huawei Ascend P2
With their all-American shiny white teeth, whip-tight bodies and slightly kinky costumes, the pair look more like niche pornstars than crime fighters. The suits they both wear accentuate this image, with Phoenix sporting a rather impressive-looking armoured codpiece and a scary-looking cowl, and his purple-haired partner was clad in a rubber suit which gives her the sort of pumped-up, boobylicious body last seen on Jodie Marsh after months of bodybuilding.
"To be honest, this doesn't even begin to do my abs justice. Seriously," Purple Reign says modestly when I ask what their real physiques are like beneath the flattering suits.
Phoenix is an undefeated Mixed Martial Arts champion and the lead crime-fighter of the pair. The superhero with the amazing flat-top hairdo has stopped muggings, averted a riot and scared the bejeezus out of Seattle's casual drug users during his nightly patrols. His lover and sidekick performs a gentler role, visiting schools to gee up the kids and leading a domestic violence campaign, prompted by her own experiences at the hands of an abusive partner.
The pair are lovers whose romance was sparked when Phoenix bought a date with Purple (not their real names) at a charity woman auction in the city. He was forced to wear his costume to their first night on the town because he'd been stabbed in the stomach and then superglued the wound shut, bonding his skin and clothes in the process. Love soon blossomed.
"My parents were a little nervous at first," she says. "But now they are very supportive. In fact, they are our biggest fans."
Fighting the urge to ask about their sex lives, El Reg got a glimpse at the tech that powers their madcap criminal-bashing lifestyle.
Both sport cameras in the chestplates of their uniforms, so they can livestream the action, and have GPS built into their suits. Phoenix is the muscle of the pair, with a $10,000 dollar shield which he claims stops bullets and grenades, as well as a fire-proof, bullet-proof and stab-proof costume. Purple uses her brain, studying crime maps and statistics to work out how best to catch the crooks.
They clearly need all this gear in Seattle, which isn't exactly the most genteel of cities. "Our laws are dumb," Phoenix says. "You can carry a sword that's less than two and a half feet long, so you could walk about with a short broadsword, and you can also have anything that doesn't remote detonate, so a grenade launcher's fine too."