This article is more than 1 year old
Linux 3.11 to be known as 'Linux for Workgroups'
New kernel version pays homage to Windows past
The first release candidate of version 3.11 of the Linux kernel has arrived, and to commemorate the occasion, Linux creator Linus Torvalds has given the kernel a new codename and a new, Microsoft-inspired boot logo to match.
As of Sunday, Linux kernel 3.11 is officially named "Linux for Workgroups," borrowing the moniker Microsoft gave to Windows 3.11, way back in 1993.
To accompany the name change, the graphical logo that appears when some Linux systems boot has been updated so that Tux the Penguin is now holding a flag reminiscent of the old Windows logo.
The last time Linus changed the boot logo was in 2009, when he briefly swapped out Tux for a Tasmanian Devil mascot to raise awareness of efforts to fight a disease plaguing that animal's endangered population.
Silly codenames, on the other hand, are a tradition for the Linux kernel. The most recent kernels 3.8-rc6 through 3.10 went by the name "Unicycling Gorilla," while some entries in the 2.6.x line bore such names as "Pink Farting Weasel," "Holy Dancing Manatees, Batman," and "Jeff Thinks I Should Change This, But To What?"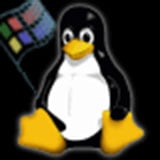 Tux gets a makeover for 3.11
The latest name change is a nod to Windows for Workgroups 3.11, the version that Microsoft shipped 20 years ago this November. WFW 3.11 was Redmond's first fully 32-bit OS, meaning it could only run on machines with 80386 processors or better. It was also the OS for which Microsoft shipped its first rudimentary TCP/IP stack.
Linux today is of course considerably more advanced than WFW 3.11 was, and as usual, the latest kernel brings a number of improvements.
Most notably, AMD has contributed more than 150 patches that improve support for Radeon graphics cards, including support for new hardware and for dynamic power management in the open source driver.
Zswap, a tool that tries to improve performance by compressing memory rather than swapping it to disk, has been added to the mainline kernel for the first time. Also included is a client for the Lustre distributed file system.
Various improvements have been made for the PowerPC and ARM processor architectures. Xen and KVM virtualization now work on 64-bit ARM, and Wine/ARM can now run some Windows RT applications.
As usual, a wide variety of minor improvements have been made and bugs have been squashed, as well. The full list is too long to go into detail here, but you can see a list of merged patches in Linus' original release note.
Now that kernel 3.11 has reached release candidate status, its feature set has been frozen and future development will exclusively involve fixing bugs. If all goes smoothly, the final version will likely ship sometime in September. ®