This article is more than 1 year old
New moon discovered around Neptune brings total to 14
Even Voyager 2 missed it
A researcher studying footage from the Hubble Space Telescope has discovered a new moon around Neptune, making it the fourteenth satellite known to be orbiting the blue gas giant.
Mark Showalter of the SETI Institute in Mountain View, California, discovered the new moon by examining more than 150 archival photos taken by Hubble between 2004 and 2009.
The satellite is the smallest yet discovered around Neptune, with a diameter estimated at no more than 12 miles (19.3km) across, and its coal-black coloring makes it 100 million times fainter than the faintest star visible with the naked eye, according to a NASA press release.
All of this helps to explain why it was never spotted by the Voyager 2 spacecraft, which discovered five other moons orbiting Neptune during its 1989 fly-by.
That mission brought the number of Neptune's known satellites to eight, and later research has since upped the figure to 13, but no new moons have been discovered around the eighth planet since 2003 – until Showalter's discovery, that is.
Showalter spotted his moon quite by accident, when "on a whim" he started examining a tiny white dot that appeared on Hubble photographs some 65,400 miles (105,251km) from Neptune.
By marking where the dot appeared on a succession of photographs taken over a five-year period, Showalter was able to plot a circular orbit for the new moon, tucked in between the orbits of the small, previously known moons Larissa and Proteus.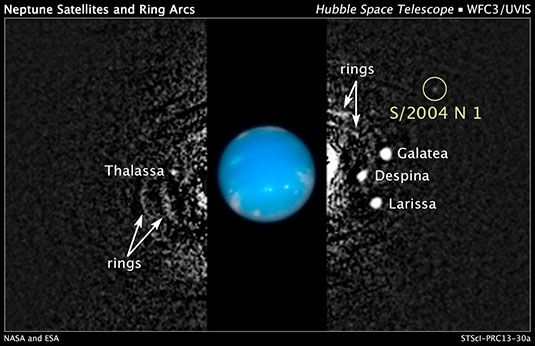 The dark moon was so fast and tiny that not even Voyager 2 saw it
The new object is really hurtling along, too. It completes one full rotation around giant Neptune every 23 hours – compared to our own moon, which orbits the Earth about once a month.
So far, Neptune's new moon is known only as S/2004 N 1. The others are Triton, Nereid, Naiad, Thalassa, Despina, Galatea, Larissa, Proteus, Halimede, Psamathe, Sao, Laomedeia, and Neso.
When the new satellite is given its permanent name, it will similarly be assigned something that references Greek or Roman mythology, is associated with the sea-god Neptune, and hasn't already been assigned to any other body in the solar system. ®