Pure boffinry: We peek inside Nokia's miracle cameraphone
How did they miniaturise a monster?
Special Report These days, "tech" means anything except technology. The word has become so debased that a group of marketing people talking about their ideas for websites are a "tech scene". And hosting meetings for marketing people to talk about websites in London in 2013 actually makes you a "tech entrepreneur". The concerns of real engineering innovators take second place to the needs of the Magic Roundabout.
So it's almost shocking in 2013 to see real engineers pushing the limits and producing something with the capacity to startle.
Last week we saw one of Europe's biggest tech companies, Nokia, do just that, with its Lumia 1020 phone. The device breaks several barriers for miniature cameras, and it's the convergence of several technology projects that only a large company with an expensive, long term R&D engineering commitment could undertake. It's the miniaturisation that's the deal here. It's so extreme, it's quite hard to comprehend. It's utterly insane.
You'll know that without the constraints of cost and space, great things are still possible. For example, the 50 megapixel Hasselblad H3D-50 (pdf) takes superb photos – as you can see in this spread.
But it comes with a base price of £20,000 and it weighs 2.3kg – the larger lenses you'll need will cost you more and weigh more too. Similarly, if space is not a serious constraint, then every camera would use optical zoom.
Nokia's engineers operate within very demanding cost and space constraints. Nokia is not making a standalone camera, but a tiny unit that must conform to the price and size constraints of the phone market, a market which will not buy bulky or freakish designs in significant numbers.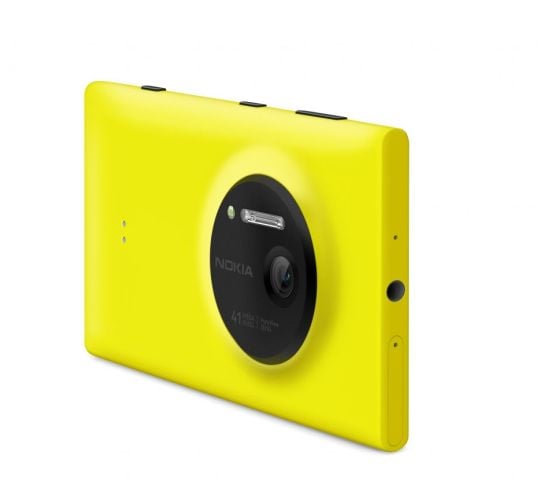 The Lumia 1020 combines and shrinks two technologies into a smaller package: slimmer than the 920, the bulge protrudes by only around 3mm
Here's the camera unit itself: it contains 100 parts, is 10mm tall and is apparently larger than the phone itself when you place them side by side. What's even more astonishing is that there are no compromises.
You could forgive Nokia for introducing a cut-down on the oversampling technology it already had, or the image stabilisation unit it had already made, just to keep the cost or size down. Many predicted this was what Nokia would actually do: a similar but lower fidelity version of what was on the market. But in fact it's improved on both main technologies in this tiny package.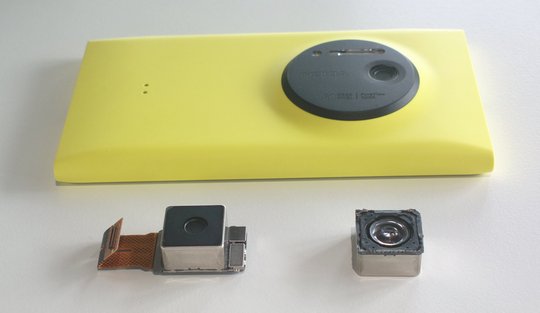 How did they do that? The 1020 imaging unit appears to be larger than the phone housing it.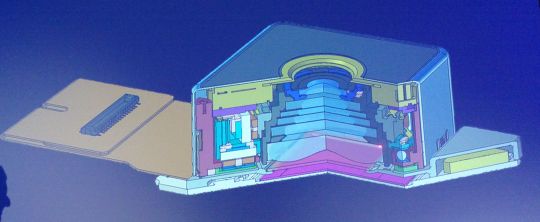 A schematic view of the Lumia 1020 imaging unit, which contains over 100 parts. Ball bearings isolate the lenses giving hardware stabilisation. The Lumia 920 used a spring.
With the help of Juha Alakarhu, lead engineer for the project, and his boss imaging chief Eero Salmelin, I found out how they did that:
Four discrete technology projects converge on this product. Three have appeared before, but never together or in such a slimline package. These are the oversampling sensor, the floating OIS technology and the audio recording system. The new tech comes in the form of a new kind of Xenon flash - prior models which incorporated Xenon flashes used tubular capacitors, while this model uses flat capacitors to shave millimetres off the space required to jam in all the components.
Each technology is the culmination of many years of work and partnerships with specialist suppliers, whose engineers in turn had to do something new and unusual with their expertise. The product constraint was a unit 10mm tall. As a consequence every part of the 1020 is new, and nothing could be reused from earlier products.
Two less-highlighted technologies in the 1020 each illustrate the necessity for long-term R&D and the need for partnerships to produce bespoke hardware. Both are a case of Nokia requiring others to push the limits of what they can do. These are the flash unit and the audio recording technology.
Nokia's Rich Recording audio system (PDF) has a wide dynamic range, capable of recording whispers alongside gunshots, and no distortion in a range of sound pressure ranging from 33 dB (Sound Pressure Level) to 140dB (SPL). The sound of a watch ticking is 30 dB SPL and the human pain threshold around 120 dB SPL.
To miniaturise this required the design and production of custom High Amplitude Audio Capture microphones. Xenon flash, which gives a burst around 100 times as bright as that of an LED, is very rarely seen on smartphones for cost and size reasons.
Nokia insisted on having it, and this in turn required miniaturising conventional tubular Xenon capacitors - inevitably replaced with flat capacitors.