This article is more than 1 year old
Oracle gooses Exalytics in-memory appliance with flash, fat DDR3 sticks
Waiting for the 'Ivy Bridge-EX' Xeon E7 v2 from Intel
Apparently the "speed of thought" that Oracle cofounder and CEO Larry Ellison was bragging about when Big Red launched its Exalytics in-memory applianceback in October 2011 is no longer fast enough. And so Oracle is gussying it up with a memory upgrade and a flash card boost until it can get a new "Ivy Bridge-EX" version of the appliance out the door, perhaps early next year.
Oracle started talking about the Exalytics X2-4 appliances, which run a variant of its TimesTen in-memory database on top of a four-socket Xeon E7-4800 server, nearly two years ago. It didn't put a price on it and start selling it until February 2012, however, so the original Exalytics has only been in the field for a little more than a year. But still, like their rival HANA appliances (also based on the Xeon E7 motors from Intel), this Exalytics iron is looking a bit long in the tooth.
If Intel had gone through with a plan to put a "Sandy Bridge-EX" chip into the field last year, Oracle could have used the quad-socket variants of those chips (which are never going to come to market) in a second-generation of Exalytics boxes. And it could still do an eight-socket version of the Exalytics based on the Xeon E7-8800 if it really wanted to double up the processing and memory.
For whatever reason, Oracle is limiting Exalytics appliances to four sockets using the ten-core Xeon E7-4800s, which gives the TimesTen database 80 threads to play with as it runs transactions and queries. But it could easily create an Exalytics with eight Xeon E7 sockets with a total of 4TB of main memory. Perhaps TimesTen can't scale well across that amount of memory and the 160 threads that machine would have. (Oracle does not say.) Also, the Exalytics appliance can run the Essbase multi-dimensional OLAP server.
There is some new iron for fat memory boxes coming later this year, with Intel saying to expect an "Ivy Bridge-EX" Xeon E7 in the fourth quarter, and adding that it will have three times the memory capacity of the current "Westmere-EX" Xeon E7 processors. That's 12TB across eight sockets and very likely a lot more cores and threads.
The rumored number is anywhere from 10 to 15 cores, and that latter number doesn't make a lot of sense unless there are some hot spares. It could be 15 cores with one as a spare, yielding 14 for real work, or 16 with one hot spare, yielding 15 for real work. Having said that, processors and operating systems really like when things are multiples of two. There is also talk that the future Xeon E7 v2 chips will support both DDR3 and DDR4 main memory, but Intel has not confirmed that.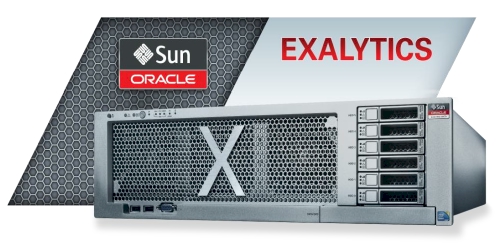 The single-node Exalytics in-memory appliance from Oracle
The main thing is that if Intel says that it is going to get the Ivy Bridge-EX processors out the door in the fourth quarter, that means system makers peddling HANA appliances (IBM, Dell, HP, and Fujitsu are the main ones) as well as Oracle with its Exalytics boxes are not going to be able to get shiny new and more expandable iron into the field for their in-memory processing until early 2014.
So, with hardware sales sliding and a long time to go before the hardware will be upgraded, Oracle is pushing a variant of the Exalytics appliances with expanded main memory as well as flash-based PCI-Express cards. The combination, presumably, makes up somewhat for not actually having more processing oomph and main memory available in the Xeon E7s in a four-socket configuration.
The original Exalytics X2-4 appliance had four of the Xeon E7-4800 processors and sixteen 16GB DDR3 memory sticks to yield 1TB of main memory in which the parallelized TimesTen databases run. The software stack also included data compression algorithms that could allow that physical 1TB of memory to hold anywhere from 5TB to 10TB of customer data.
The Exalytics X2-4 has four 1Gb/sec Ethernet ports, two 10Gb/sec Ethernet ports, and two 40Gb/sec InfiniBand ports, plus six 2.5-inch SAS-2 disk drives spinning at 10K RPM and weighing in at 600GB each. The whole shebang runs Oracle Linux, a clone of Red Hat Enterprise Linux.
The hardware for this appliance costs $135,000 with premier support running $16,200 per year. This does not include the cost of the TimesTen database software or the Oracle Business Intelligence Foundation that is required on it. (El Reg went through the pricing of this software in great detail here.)
With the Exalytics X3-4 announced today, Oracle is taking the same Xeon E7-4800 server and pushing up the main memory to its full capacity of 2TB using 32GB memory sticks. A year and a half ago, this fat memory was crazy expensive – if you could find it – which is why the original Exalytics box didn't go to the upper limits of the Xeon E7-4800 v1 processor from the get-go. This machine boosts the disk capacity by 50 per cent to 900GB per drive (for a total of 5.4TB).
The newer Exalytics box also adds in six of Oracle's own Flash Accelerator F40 flash cards, which has 512GB of raw capacity in its enterprise MLC (eMLC) memory which formats down to 400GB, for a total of 2.4TB of flash cache. Each one of these units can deliver 189,958 I/O operations per second (IOPS) on random reads and 121,018 IOPS for random writes.
That flash memory is particularly useful, Oracle explains in a whitepaper (PDF), in speeding up load and query execution times on Essbase compared to disk drives. We are talking about 25 times faster data loading and ten times faster query processing with flash modules over disks.
Oracle did not say what performance benefits the Exalytics X3-4 would have over the Exalytics X2-4 when doing queries against the TimesTen databases. Presumably the performance has to be better thanks to flash memory and fatter main memory – quicker load times, faster query response time, more transactions per second, and so on – but how much is anyone's guess at this point.
With this extra main memory, fatter disks, and flash drives, Oracle is boosting the price of the Exalytics X3-4 appliance to $175,000, with premier support costing $21,000 per year. If you want to add the flash to an existing Exalytics X2-4 appliance, that will run you $35,000, according to the Oracle price list for its so-called "engineered systems," and if you want to do the memory and flash upgrade, that will run you $105,000.
On the software front, the Business Intelligence Foundation Suite is now revved up to version 11.1.1.7 and includes over 200 enhancements, says Oracle. And its Endeca Information Discovery 3.0 (for mixing and matching structured and unstructured data) and Hyperion Enterprise Performance Management 11.1.2.3 are also now certified on the Exalytics boxes. ®