This article is more than 1 year old
Apple MacBook Air 13-inch 2013: Windows struggles in Boot Camp
Can you turn Apple's Haswell laptop into a Redmond Ultrabook?
Review Part Two For years now, Apple's MacBook Air has held its own as the ultimate in portability, inspiring the PC market to follow suit with the Ultrabook marque. While not all Ultrabooks attempt to ape the Air's slimline form factor, they draw from the same line of Intel CPUs and often beat the iconic Apple on cost.
Yet Apple has one trick up its sleeve that can be a clincher for some: Boot Camp - the ability to run Windows software on Mac hardware without resorting to a resource-sharing virtual machine.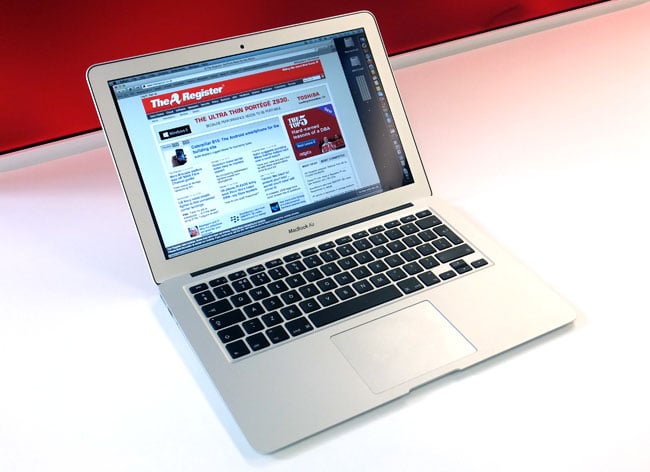 The original Ultrabook? Apple's MacBook Air 13in
We've already seen what the build-to-order dual-core Intel Core i7 Air is capable of - so how does the dual-core 1.3GHz Intel Core i5-4250U CPU base model fare with its 4GB of mobile DDR3 RAM and a 128GB solid-state flash drive when you configure it for the best of both worlds?
Is this the ultimate Ultrabook too?
Despite having two USB 3.0 ports on the MacBook Air, it would seem that in Apple's realm, not all USB ports are created equal. How do I know this? Through pain and misery, of course. I am referring to my efforts to use Boot Camp to start up Windows 7 on this model, something I've done on countless Intel-based Macs in the past as a way of benchmarking them against their PC counterparts.
Now, before I list my futile efforts, you should know that there is a way to make this work and there's even an Apple online knowledgebase article on the topic. There's just one tiny detail here that needs to be adhered to which makes the difference between success and failure.

Still striking, but isn't it time Apple did some more design work?
First things first, though. Boot Camp is an Apple utility featured on all recent Macs that can start the machine up with Mac OS X or Microsoft Windows, once the latter is installed; the tool partitions the drive without a reformat and sets about downloading the Wintel drivers you'll need to have stored on a USB stick prior to the Redmond operating system's installation. There are a few well documented twists and turns regarding drive formatting, but other than that, it's usually plain sailing.
So any Boot Camp old hand will be rather flummoxed as to why the darn thing restarts to a black screen with a blinking cursor instead of the Windows installer. Reboot and hold down the Alt/Option key, you say. That'll allow you to choose your booting options to include the installer DVD resident in the attached external optical drive. If only life were so simple.
I'm not quite sure how I managed it, but at one point I did get to the installer screen, but neither the mouse nor the keyboard were functional, so it was impossible to proceed further. I'm pretty sure I was using a USB stick with drivers from my last Boot Camp installation. According to the Apple website, the Boot Camp 5 support software has been around since March, so it seemed safe to assume it would work as no update was on offer and the MacBook Air (mid 2011 or later) was listed as supported. Don't be fooled.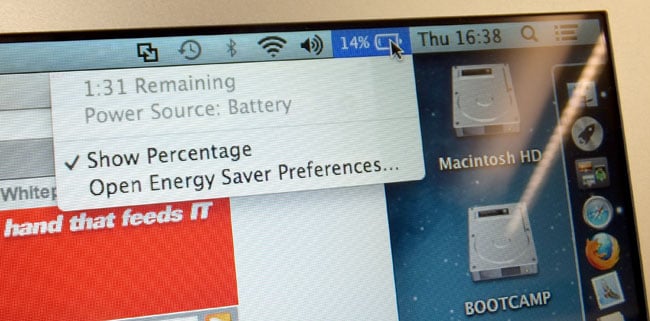 Just for the record, the battery life is excellent and even if it is a guess, 91 minutes at 14 per cent is quite a comfort
Attach a mouse, you say. Well, given one port was occupied by the external DVD drive with a Windows 7 disc and the other the Boot Camp drivers on a USB stick, this wasn't going to be straightforward, and even briefly detaching the USB drivers stick and trying out the mouse didn't work. It's at times like these that you become acutely aware that two USB ports aren't sufficient after all.