This article is more than 1 year old
Apple MacBook Air 13-inch 2013: Windows struggles in Boot Camp
Can you turn Apple's Haswell laptop into a Redmond Ultrabook?
Eye SPI
I began to wonder if choosing Boot Camp's 'download drivers' option would be a better bet than relying on this stick of version 5.0.5033 drivers from the Apple Support site. Maybe there were a few sneaky machine-specific updates available that Apple was keeping quiet about?

Read the small print: "software designed specifically for each Mac..."
This appeared to be sound thinking, as a glance at the Apple System Profiler reveals that both the keyboard and trackpad on the new MacBook Air rely on SPI connectivity, rather than the usual internal USB hub shenanigans. Motorola was behind the name Serial Peripheral Interface (SPI), using the tech as way of classifying a range of communications protocols.
SPI is full-duplex and is suited to a master-slave set-up for relatively slow-speed communications, making it ideal for peripherals. You can tack on USB to an SPI controller too, which might be what Apple has done to link up its existing USB stack to the new hardware. But then again, maybe what we're seeing is old PC peripheral support on Intel boards being tapped into by Apple. Perhaps this is another MacBook Air power-saving trick.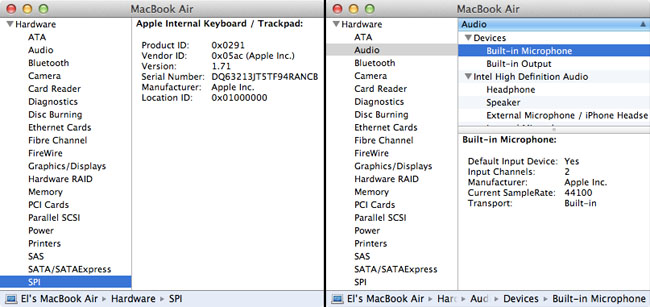 Apple System Profiler details SPI HIDs and dual channel mics
Where this leads to is perhaps an explanation as to why the old Boot Camp 5.0.5033 drivers didn't work: namely, no SPI driver support. The freshly downloaded version reported it was installing Boot Camp 5, build 5241 and all seems happy now. Oh and if you were curious as to how this came about, the answer is simple: be sure to plug in your designated Boot Camp drivers USB stick into the left port of the MacBook Air before downloading the new batch and keep it there. Overlook this seemingly inconsequential detail and you're stuffed. It's all in here.
So now Windows 7 glistens at me from the MacBook Air's bright but not dazzling, shiny but not too reflective display. Why not Windows 8? Well, from past experience, I knew Windows 7 would work and for benchmarking this would be, er, quick. And now for the result of all that palaver, Futuremark's PCMark 7 notches up a balanced score of 4138, climbing to 4157 in high performance mode.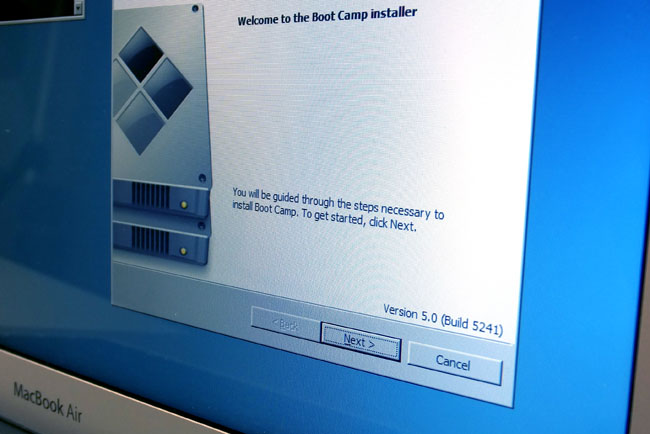 The Apple Support site standalone Boot Camp installer needs a refresh, the MacBook Air has its own version
Oh and if you're planning on doing this, be sure to update to Win 7 Service Pack 1 – without it the PC Mark 7 score was a lowly 3004. Just for the record, the Windows Experience Index measured up at 5.9.
Incidentally, the Windows 8.1 Preview installed without a hitch, but beware that choosing the erase all (clean) option will kill off Boot Camp components you've just installed. Still, the keyboard and Wi-Fi networking works but you don't get the trackpad gestures, which means no right click. Install those new Boot Camp drivers and that functionality is restored.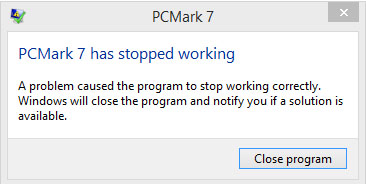 Broken by Boot Camp drivers – oops
Before doing so, I ran PCMark 7 in this virgin state and it scored 2585. Sadly, the driver install process then broke some apps that had run on the Win 8.1 Preview beforehand. PCMark 7 failed to start, as did the exceptional open-source transcoder Handbrake. The Windows 8 compatibility mode option was tried but the outcome didn't change.