Radiohead's Thom Yorke pulls his own music off Spotify
'Not like radio at all', snarls testy popstrel over chickenfeed stream rates
---
Thom Yorke of Radiohead has become the latest artist to withdraw from Spotify in protest at their paltry royalty payments.
Radiohead producer Nigel Godrich, a member of Yorke's side project Atoms For Peace, announced the decision on Twitter, describing it as a "small meaningless rebellion." Godrich explained that artists had conceded too much power to technology middlemen, and major labels – who own equity in Spotify – intimidated artists against speaking out. Yorke's solo album and the Atoms For Peace album have been withdrawn.
"The music industry is being taken over by the back door," Godrich Tweeted, "These are all the same old industry bods trying to get a stranglehold on the delivery system. The numbers don't even add up for Spotify yet. But it's not about that. It's about establishing the model which will be extremely valuable. Meanwhile small labels and new artists can't even keep their lights on. Plus people are scared to speak up or not take part as they are told they will lose invaluable exposure if they don't play ball. Meanwhile, millions of streams gets them a few thousand dollars. Not like radio at all."
Godrich said he thought streaming suits back catalog material but "cannot work as a way of supporting new artists' work", urging Spotify to value new music higher, to support the production of new releases.
"Spotify and the like either have to address that fact and change the model for new releases or else new music producers should be bold and vote with their feet."
Several bands and artists including Black Keys, ColdPlay and Adele have kept their new releases off Spotify without incurring the wrath of fans. Streaming services retort that their royalty rates are favourable when compared to radio plays. It's an argument that doesn't wash with artists, since a streaming service is responding to specific demand for an artist's work. On the radio you have to listen to a DJ's choice.
"With Spotify it is the artists (and not the users) who create all the value and get none of the profits. Like other Web 2.0 darlings, the tech oligarchs build the platform, create none of the content and will get the lion's share of the profits on Liquidity Day. Spotify is just a couple compass points away from oligarch status — call them mini oligarchs. In the meantime, Spotify profits from the artists and pay a laughable royalty in return," explained David Lowery at The Trichordist blog last year in a series of five posts about Spotify, entitled "Spotify Isn't Good For You".
The service employs "a business model that is inherently unfair to artists, producers and songwriters. This accounts for its low conversion ratio — it's a couple points away from a pure pirate service and has failed miserably in the one thing it had to do to justify its existence: convert free to paid customers."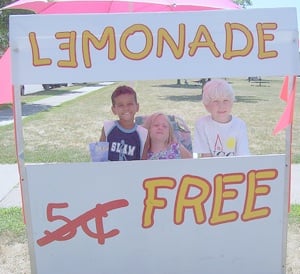 In 2007 Radiohead allowed anyone to download its album In Rainbows for free, but it has not repeated the experiment.
The Somalia-like internet economy must take some blame, too, as despite no shortage of willing buyers and sellers, very little money is circulating. In the United States, the average cable customer pays almost $160 for a vast wodge of entertainment services including TV and movies, bundled in with the access.
What problems haven't been solved by more money entering the system? ®
Related Link
The Economics of Withholding Your New Music From Spotify - Scott Perry