US public sector shuns public clouds
Spending surge sees feds chuck cash at on-prem tech
---
US government spending on cloud technology is set to spike in the next two years, though security concerns have scared agencies away from public clouds.
Spending by US federal agencies on private cloud services will grow from $1.5 billion in 2012 to $1.7 billion in 2014, then rocket up to $7.69 billion by 2017, according to figures released by IDC in a report on Monday. This compares with a mere $110 million spending on public clouds in 2012, rising to only $373 million by 2017.
For all the federal government's push to adopt new technologies as part of a major IT refreshment strategy, agencies are still apparently concerned about the security and viability of public cloud technologies.
"Many government organizations need to deploy private clouds because of security concerns and the substantial amount of legacy infrastructure they need to support," IDC researchers wrote in a copy of the Perspective: Growth and Slight Contraction – Government Cloud Spending by U.S. Federal Agency report seen by The Register.
Although providers such as Amazon, HP, and Microsoft have pursued security certifications such as FISMA and FedRAMP – Amazon has set the pace in this area via its dedicated GovCloud data centers – many government departments are hamstrung either by regulation or legacy hardware from going into public cloud environments.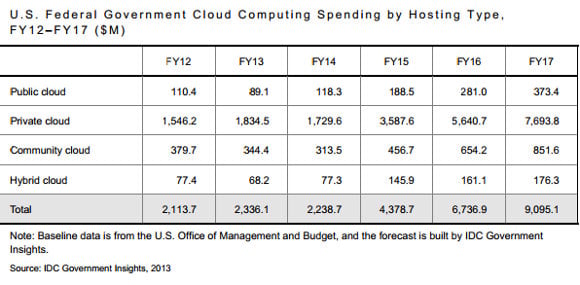 The public sector shuns public clouds
For private clouds, much of the spending will relate to designing and running infrastructure-as-a-service systems either on-premises or in remote data centers operated by third-party providers. IaaS is expected to take $1.2bn in spending in 2013, climbing to $5.4 billion by 2017. This is double the expenditure predicted for software-as-a-service in 2017, and almost five times that projected for platform clouds.
One agency to go for an IaaS private cloud system is the CIA, which is planning a $600 million private cloud IT contract with either IBM or Amazon Web Services.
"Agencies are quietly making a coordinated effort to move toward cloud in a logical way," IDC says, "by first getting their own house in order and using enterprise architecture tracking and technology standardization rules to help them create a commodity approach to cloud solutions."
The dip in federal spending from austerity budget cuts – "sequestration" – will reduce spending on new technologies for the next couple of years, but IDC sees this stagnation ending by the close of 2014. "That said, the growth still will not be as robust as what is expected across other industries", IDC researchers wrote.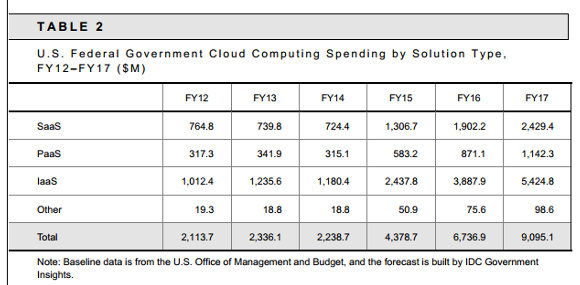 Platform clouds are languishing compared with IaaS
Among agencies, the Social Security Administration typically leads spending across many of the categories, followed by either the Department for Homeland Security or the Department of Defense. For public cloud spending, the Treasury department leads, then Agriculture, then the DHS.
As for future technology needs, IDC researchers predict that the government will need to dramatically increase its data-storage capabilities for long-term archiving. "This will include massive scale (up to hundreds of petabytes), evergreen/modular storage systems, object-based data organization, advanced data indexing/classification, and support for multiple media options (SSD, HDD, and tape)."
Given the recent revelations regarding Prism and other related data-slurping schemes, we think IT providers would do well to start polishing their public sector storage products before the NSA starts offering its own backup service. ®