AT&T's adds 'Next' plan to allow phone, tablet trade-ins after one year
Pay-as-you-go purchase plan frees Big Phone from profit-eating subsidies
---
In a bid to get out from under the billions of dollars in subsidies it pays to smartphone and tablet manufacturers such as Apple and Samsung, AT&T is instituting a plan it calls AT&T Next, in which you pay the full price of the device yourself in 20 monthly payments and have the option to trade it in after 12 months for a new device – and, of course, a new monthly commitment.
AT&T's marketing push, of course, doesn't focus on the fact that the Next plan eliminates their subsidy payments, but instead on the ability to trade up to a next-gen smartphone or tablet without having to wait for the end of the standard two-year contract. "Technology doesn't wait. Neither should you," the AT&T Next tagline purrs.
"With AT&T Next, customers can get the newest smartphone or tablet every year with no down payment," said AT&T Mobility president and CEO Ralph de la Vega in a statement. "That's hard to beat, and it's an incredible value for customers who want the latest and greatest every year."
The subsidies paid to smartphone and tablet manufacturers were highly effective in moving customers up from affordable feature phones to pricey smartphones or getting them to try out a tablet without feeling the pocket pinch of an up-front hardware payment. However, now that smartphones have become well-nigh ubiquitous and tablets are firmly ensconced in the consumer marketplace, subsidies are a drag on carriers' bottom lines.
The AT&T Next deal will be available beginning July 26, and works as follows: you sign up for the plan, pay sales tax as applicable on the phone or tablet up front, then pay 20 monthly installments that vary in price depending upon the device you choose. AT&T's announcement, for example, says that the monthly charge for a Samsung Galaxy S 4 will be $32, and The Wall Street Journal reports that an Apple iPhone 5 would run $32.50 per month.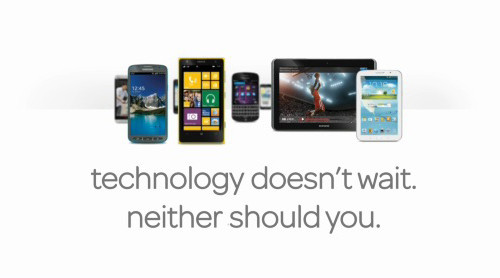 Don't wait – to help AT&T sweeten its bottom line
There is no down payment, activation fee, or upgrade fee, and although AT&T adds "no finance charge" to that list of bennies, we can only assume that the monthly fee is structured in such a way as to not lose AT&T any money on the deal. There's a limit of two AT&T Next installment plans per account.
The service plan for the device is added in on top of that monthly fee, and varies depending upon the level of service you choose. You can keep the device for the full 20 months, or after one year trade it in for a new device and begin another 20-month cycle without having to pay the remaining eight months of the original commitment.
AT&T also "strongly" recommends that you purchase their Mobile Insurance plan to cover the device from damage or loss – if you lose the phone or tablet before the payment plan has run its course, you're still responsible for the full course of monthly payments. The price and deductible varies by device for this service, but for the Apple iPhone and iPad, and Samsung Galaxy and Galaxy Tab (all models), it runs $6.99 per month with a $199 deductible.
AT&T Next is similar in some ways to T-Mobile's Jump plan, which was announced last Wednesday and went into effect this Sunday. Jump allows customers who buy their phones under T-Mobile's Equipment Installment Program to trade in their handsets twice a year after they've been in the program for six months. Jump participation costs ten bucks per month, but T-Mobile bundles their Premium Handset Protection and Mobile Security services to sweeten the deal.
If you want to be a Jump participant, you'll pay an up-front down payment on your phones, taxes up front as applicable, and have 24 months to pay off the full price of your phone. If you should choose to swap out your phone for a new model after the six-month waiting period, the remaining payments will be forgiven if you get that new phone from T-Mobile.
AT&T's Next announcement takes a bit of the wind out of T-Mobile's sails – and, possibly, sales – as that fourth-place US wireless carrier attempts to claw back market share after dropping to a 10.1 per cent sales market share in the three months ending in May, down from 13.5 per cent in the same period last year.
And don't expect the number-one US carrier, Verizon, to boycott the pay-as-you-go, non-subsidized smartphone and tablet party. According to a report on Monday by Droid Life, Verizon is prepping its own similar plan, to be called VZ Edge and to be rolled out in August.
Next, Jump, VZ Edge – the changes in US carriers are coming fast and furious. Should you choose to play along, that two-year wait for a new device will be consigned to the dustbin of history, and carriers will have a lot of trade-ins to recondition and offer to smartphone and tablet newbies at more affordable prices, subsidized in part by fanbois and fandroids who want the latest shiny-shiny in their pocket or purse. ®