This article is more than 1 year old
Fanbois get Outlook app for iOS, but only if they sign up for Office 365
iOS app is free; hosted Exchange Server isn't
Microsoft has released an iOS version of the Outlook Web App that improves performance and adds new features for mobile devices. The catch? You'll need to be an Office 365 subscriber to use it.
"Our goal is to help our customers remain productive anytime, anywhere.  This includes providing a great email experience on smartphones and tablets," Exchange product marketing manager Steve Chew wrote in a blog post on Tuesday.
Noting that Windows Phone 8 already comes bundled with Outlook Mobile – shocking, that – O'Donald said that Redmond is releasing the new app to better support customers who use their iPhones and iPads for work. Just don't expect to use it with your company's in-house Exchange Server.
Instead, it only works with the Microsoft-hosted Exchange Online service that's a component of many Office 365 subscription offerings, including the Small Business, Small Business Premium, and Midsize Business plans, and some Enterprise, Kiosk, and Education plans.
To activate the app and log in, you use your Office 365 credentials. You can't specify an arbitrary server to connect to, and without an Office 365 subscription, you're out of luck.
The move is in keeping with Microsoft's strategy for its previously-announced Office Mobile app for iOS, which also requires an Office 365 subscription.
That said, the Outlook app does provide some nice features for mobile device users, versus logging into OWA with a mobile browser. For starters, the UI is designed around touch gestures, including tapping and swiping, and it even supports a number of voice commands.
The UI is presented differently if you're using an iPhone or an iPad. So, for example, the inbox view on an iPad defaults to two columns with a reading pane to suit the tablet's landscape mode, while on an iPhone it defaults to a single-column list view.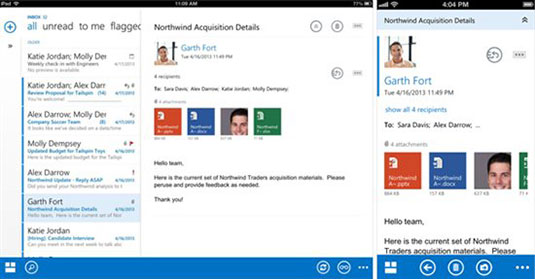 Outlook Web App for iOS tailors its layout to your device: iPad on the left, iPhone on the right
Like the built-in iOS email app, the Outlook Web App's icon displays a count of new messages in a little red badge in the corner. Upcoming appointments also appear in the Calendar tile on the app's main navigation screen, and meeting reminders pop up even when the app is closed.
If you want your iPhone's caller ID function to recognize your Exchange contacts, you can optionally sync them with the device's contacts.
Admins can manage users' access to OWA via Office 365's Exchange Admin Center, and they can even trigger a remote wipe of all Outlook email and calendar data (although, awkwardly, the app has to be running for the wipe to work).
Perhaps the app's best feature, however, is that it works even when your iDevice is offline. You can read, compose, flag, delete, and reply to messages and view and edit your calendar and contacts, and all changes you make will be automatically synced with the server when your network connectivity is restored.
The iOS app supports the same 60 languages that are supported by the browser-based version of the Outlook Web App, but since it needs the latest update of Exchange Online to work it may not yet be available in all regions. It also requires iOS 6 running on an iPhone 4 or later, or an iPad 2 or later. If your device meets those specs, it's available as a free download from the App Store as of Tuesday. ®