A successful speed-of-sound shot has powdered ten tonnes of ice, but much to the builders' delight the projectile used managed to retain its components and internal structure in spite of the massive g-forces involved in the test.
Reported over at the BBC, the test is part of a "space penetrator" project, offered as a lower-cost alternative to sending rovers to our planetary neighbours.
The other attraction is, of course, that a penetrator-style instrument mission would have far less risk of embarrassment, compared to sending a full-blown rover only to have the mission fail, as has befallen both European and US missions.
In this test, the Beeb says the 20 kg projectile was travelling at close to the speed of sound, around 340 metres per second. For the test, it carried an instrument package of accelerometers and data loggers to record the forces of impact.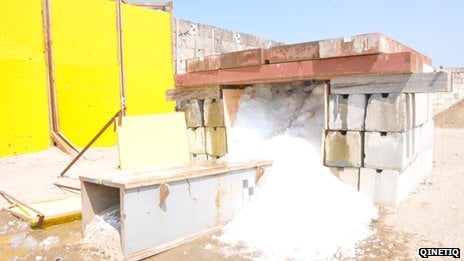 The penetrator destroyed the ice, but survived the 24,000 g impact. The BBC has video here.
The instruments were protected by a Torlon polymer, designed to collapse under high deceleration, pushing back to maintain a 2mm insulation gap around the instruments – which the test participants (Astrium, QinetiQ, the ESA and others) say they did. That's in spite of the deceleration being in the order of a couple of thousand times that typically experienced by a fighter pilot.
With a bunch of penetrators carried on an orbiter, a mission could explore beneath the surface of its target without having to deal with the complexity and weight needed to decelerate an ordinary lander without destroying it.
The next stage of the project will be to build a projectile that can sample the ice target and transmit data about it without help. ®