A project to turn mobile phones into mesh networks that can communicate if a catastrophe knocks out cellular infrastructure has been recognised with a $US10,000 prize from US Aid and Humanity United.
The prize was awarded under the Tech Challenge for Atrocity Prevention program, with the Australian-led Serval Project team recognised on the basis of "impact, innovation, scalability and feasibility".
It's been a busy few years for project, which began as a simple Android app that allowed phones to create a WiFi mesh network for VoIP conversations.
Since then, the project has gone far beyond the phone-to-phone mesh, according to Dr Paul Gardner-Stephen, who leads the project. The app, which offers fully encrypted meshed voice, text, and file sharing, has a serious drawback for general use: it needs root access to the Android phone.
This, he said, is well outside the Serval Project's aim to have something that's "grandmother-friendly", which is why the group has launched an Indiegogo fundraising drive under the moniker Speak Freely. Gardner-Stephen told The Register he wants to turn their prototypes into viable products.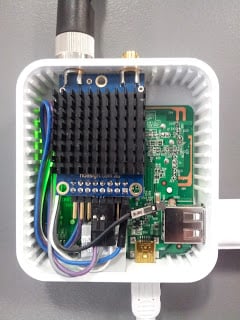 Nifty use of an RC radio: the Speak
Freely mesh extender prototype
Apart from needing rooted phones, he explained, the phones' onboard WiFi restricts the range of the mesh, so the group is now working on a range extender as a separate unit.
It's based on a UHF packet radio that's more commonly seen in long-range remote controlled planes: the RFD900, from Brisbane-based RF Designs. While not the least-cost option, Gardner-Stephen said, "these radios have fantastic input filtering, which improves the link margin for a given power output.
"In ideal conditions, people with remote controlled aeroplanes can get 60-80 Km coverage."
Since the Serval Project is trying to solve ground-level problems, he said, far shorter ranges are required. "In New Zealand, we've achieved three kilometres line-of-sight with no problems, and we expect to get as much as ten or fifteen kilometres on the ground."
The range, frequency spectrum (900 MHz) and performance of the packet radio also gives it good in-building and through-building performance, meaning that if cellular service is lost somewhere, the device could be plugged into wall outlets anywhere and deliver a service.
Gardner-Stephen also wants to improve the firmware of the extender to give it full mesh capabilities, he said. ®
Similar topics