This article is more than 1 year old
Google teases hush-hush Android event on July 24
Laconic invites offer breakfast with Google's mobile chief
Google on Wednesday began sending out somewhat cryptic email invites to a press event on July 24 that could herald big news for mobile device fans.
The plain, unassuming notices gave no indication as to what the event might be about. "Please join us for breakfast with Sundar Pichai" was all they said.
But Pichai, of course, is the head of Google's mobile OS efforts. He was in charge of Chrome OS from early on, and he assumed the reins of the Android division after its original boss, Andy Rubin, stepped down in March.
As to what he plans to announce, that's anybody's guess. But the smart money points to a new version of Android, which hasn't had a refresh in five months. An Android update was widely expected to be the big reveal at this year's Google I/O developer conference in May, but this year's event was a relatively subdued affair, offering little news on the mobile front.
Even then, just what form the next Android release will take is unclear. Rumors that 2013 would see the launch of Android 5.0 – under the oft repeated but never confirmed codename "Key Lime Pie" – have been swirling for more than a year. More recent scuttlebutt, however, points to an Android 4.3 release that will likely keep the "Jelly Bean" moniker of the past two releases.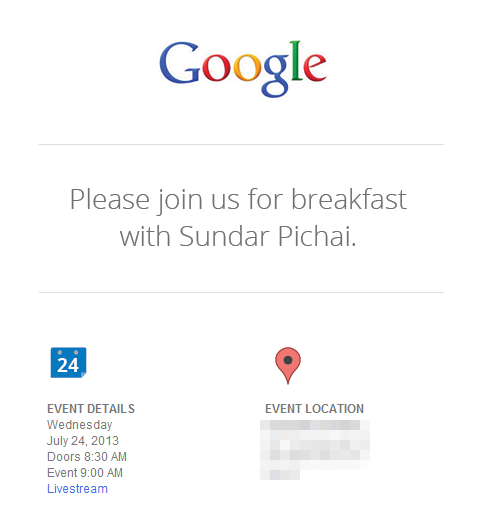 Google is really getting the hang of how to hype up its new product releases
A new Android release without any new hardware to go along with it wouldn't be all that exciting, though. Just look at the carriers' poor track record of upgrading existing phones. Jelly Bean didn't become the most widely used Android version until this month – a full year after it launched – and even now, 62 per cent of Android devices are still running older versions.
So what might that accompanying hardware be? One candidate might be a refreshed version of the Nexus 7, the popular 7-inch tablet the Chocolate Factory first unveiled at last year's Google I/O.
On Wednesday, Android Central posted what it claimed were photos and video of the new tablet in action, though its sleuths couldn't confirm whether the device in question was running Android 4.3 or some other version.
Another possibility might be the Moto X, Googlerola's much-anticipated return to the smartphone market, which has been drumming up hype with its "Assembled in USA" label.
We here at Vulture Annex welcome any further speculation as to what Pichai might have in store, which you may leave in the comments. But rest assured, whatever is afoot, we'll have a hack in San Francisco ready to hear about it, tea and bagel in hand, at 9:00am Pacific on July 24. ®