This article is more than 1 year old
The facts on Trident 'cuts': What the Lib Dems want is disarmament
New Trident is cheaper than cruise
Analysis So now we have what the Lib Dems insisted upon when they came into government: a detailed, costed review (pdf) of alternative plans for the UK nuclear deterrent apart from simply replacing it like for like.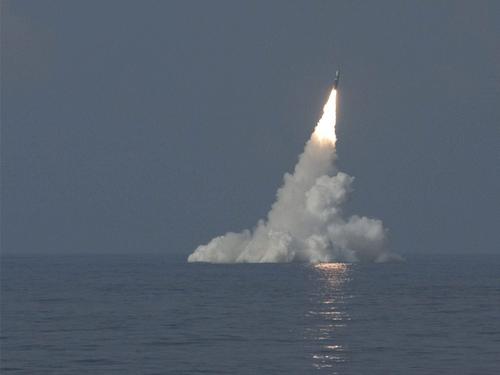 The gold standard. And it turns out it's cheaper than silver or copper, too.
Basically, it's terrible news for those who want to try and achieve gradual UK unilateral disarmament by stealth, like the Lib Dems. What has happened is that all the plans that one might expect to be a lot cheaper than Trident have turned out to be horribly expensive, and the only logical choices are to replace Trident or disarm.
The possible plans which gradual-disarmament advocates have been advocating mostly involve getting rid of our current, proper ballistic missiles and replacing them with cruise missiles.
That could conceivably save a lot of money. The Tomahawk ship- or sub-launched cruise "missile" is very cheap compared to a proper ballistic missile, as it is just a robot aeroplane - rather than a suborbital space rocket. It was originally developed by the Americans to carry nuclear warheads, so it can definitely do that.
Unfortunately it's pretty simple to shoot down jet aeroplanes if you have any modern air defences. It's much, much harder to protect oneself against hypersonic ICBM warheads dropping out of space, which means that you only need one submarine-full of those to be pretty sure of tearing the guts out of pretty much any nation on Earth in one salvo. To achieve anything like the same deterrent effect with cruise-armed Astute boats, a large fleet of them would need to be at sea all the time - which would more than wipe out the savings made by having smaller boats and cheaper weapons. A small fleet of cruise-armed subs would be a good way down the road to disarmament, in fact, which is one reason the Lib Dems have been so keen on it.
The other plan, of having proper ICBMs but basing them on land, was never really a starter - it was pretty much disposed of years ago. People didn't go to the colossal expense of mounting space rockets on nuclear-powered submarines (so creating the most technologically advanced collections of machinery the human race has ever built, by a long chalk) just for fun. It was done to avoid the terrible dilemma of the early Cold War, where a nuclear-armed premier might be warned of an inbound ICBM strike and know that he or she must order a counter-launch within minutes or lose the ability to do so. The scope for accidental armageddon was huge, and nobody wants a return to those days.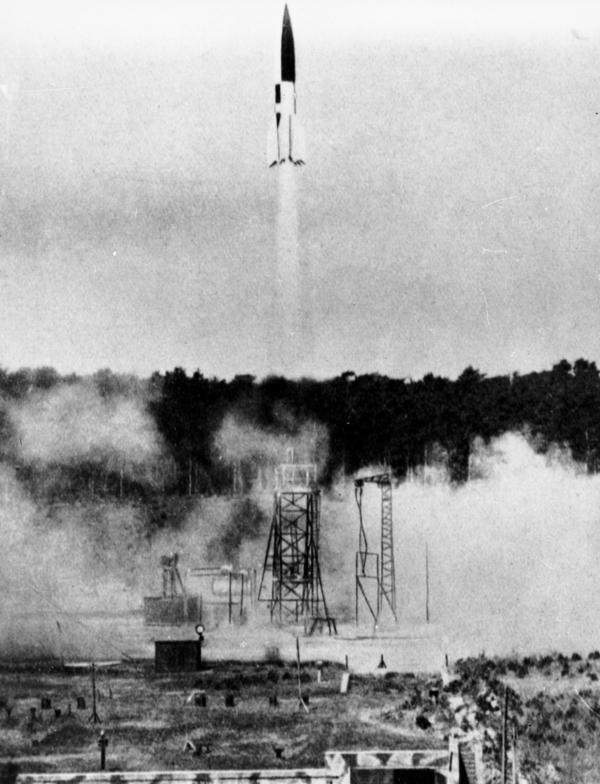 Nobody wants a return to this sort of thing
With submarine-based ICBMs, things are much less fraught. A nation can wait and only hit back once it is sure what is taking place. Even once the country itself has been largely incinerated, its subs remain safe and ready to hit back. Bomber or fighter aircraft carrying nuclear cruise missiles (or even bombs) are much less desirable here as they are easily found and can't stay up for long - they are also unlikely to be able to reach an enemy. They too are more or less a matter of disarming.
So the right choice is ICBMs on submarines, no matter what bitterly frustrated wannabe strategic bomber chiefs may say - though needless to say, the idea of buying a small fleet of strategic nuclear bombers or fighters carrying shorter-ranging nuclear weapons has been seriously considered in the review of nuclear options published today. That's because the review was done in large part by the MoD, which is full of RAF officers who would love to see a modern day successor to the V-bombers of long ago, or a nuclear weapon for our future F-35 stealth fighters to carry.
Unfortunately, quite apart from the fact of cruise-based deterrents not being at all credible or capable, there is another huge problem for any such plan. That is, they aren't even cheap.
That's because the UK would need to develop from scratch a completely new warhead to go on the cruise missiles. This would take forever, in large part because of international testing bans meaning that unbelievably huge amounts of experimentation and computer modelling are required to tell whether a new nuke will actually go off. It simply can't be done in time before the Vanguard boats finally retire, no matter how we stretch them. This means that any such plan would also mean building two more Vanguard-type ballistic subs to carry us over until the new warhead is ready.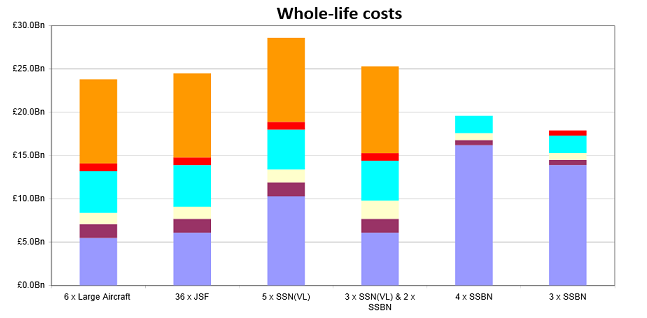 Left to right: New V-bombers, nukes on F-35, Astute subs, mix of Astute and proper ICBM subs, 4 proper ICBM subs, just 3 proper ICBM subs
In theory one might get a Tomahawk warhead from the Americans, but anti-nuclear campaigners have rather backed themselves into a corner on that one: they have spent so much time criticising the Trident missile and Polaris before it for being US made* that they can't credibly argue for sacrificing the rather more important British national ability to build and maintain our own bombs.