Curiosity team: Massive collision may have killed Red Planet
Sampling suggests Mars lost its atmosphere early in life
---
Dual tests by instruments on the Curiosity rover, combined with data from the first Viking probes and Mars meteorites that have fallen to Earth, suggests that the Red Planet lost its atmosphere within the first billion years of its history, according to two papers in the latest issue of Science.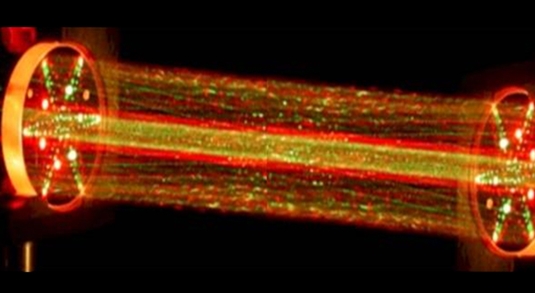 Curiosity's tunable laser spectrometer in action
Curiosity's tunable laser spectrometer and quadrupole mass spectrometer, which make up part of Curiosity's Sample Analysis at Mars (SAM) laboratory, took separate readings of the Martian atmosphere to sort out the elements and measure the pattern of carbon, oxygen, and hydrogen isotopes, the papers report.
"As atmosphere was lost, the signature of the process was embedded in the isotopic ratio," said Paul Mahaffy of NASA Goddard Space Flight Center and the principal investigator for SAM and lead author of one of the two papers about Curiosity.
The results were compared with the very crude readings taken from the 1976 Viking probes and with analysis of the isotope variation found in meteorites that have been blasted off Mars by eruptions or impacts. The new data fits current climate models, and NASA says it's confident about the results.
"Getting the same result with two very different techniques increased our confidence that there's no unknown systematic error underlying the measurements," said Chris Webster of the lead investigator behind the tunable laser spectrometer. "The accuracy in these new measurements improves the basis for understanding the atmosphere's history."
Taken together, the data suggests that the atmosphere was lost from the top down, rather than by the interaction of the atmosphere with the Martian surface. This loss appears to have occurred before Mars made it to 10 figures-worth of birthdays, and has left it fairly barren place ever since.
The findings seem to match with data from the European Mars Express probe, suggesting Mars has had a three-stage existence. During its early Phyllocian stage, thought to have lasted for the first 500 million to a billion of Mars' existence, the planet had running water laying down clay-rich minerals and a thick atmosphere.
Around a billion years into existence the planet was hit by a billion-years period of intense geological activity dubbed the Theiikian period. Vast layers of sulfates were laid out in this period, and for the rest of the planet's existence, the Siderikan period, Mars has remained much as it is now – cold, arid except for ices at the poles, and bombarded by solar radiation.
One theory for what caused that shift from a relatively lush planet with a chance for life as we know it to develop to dustbowl is that a large object, possibly even a planetoid the size of Pluto, crashed into Mars early on in life. This disrupted the planet's magnetic field and caused the loss of atmosphere.
"The data we have doesn't prove this," Webster told ABC News. "But it does fall in line with the theory."