This article is more than 1 year old
Lenovo ThinkPad Helix Ultrabook: Your new summer convertible?
Core i7 and a 10-hour battery life - but is it enough...
Review Make it thin enough with a decent battery life, slap Intel's latest Core series mobile chippery in there and it seems that just about any design can be described as an Ultrabook these days.
Has the marque lost its focus? These days there is a huge range of options from HDD to SSD, slimlime or slab-like - yet all for a price premium. Apparently, Intel wants Haswell models to wake from sleep in three seconds, so how cheaper HDD models will cope remains to be seen.
There are now high expectations of battery life to be met too. Yet for some manufacturers, these details won't be troubling them just yet if they stick to Ivy Bridge for now. Lenovo's ThinkPad Helix is a case in point, but it's no slouch and designed for the long haul too.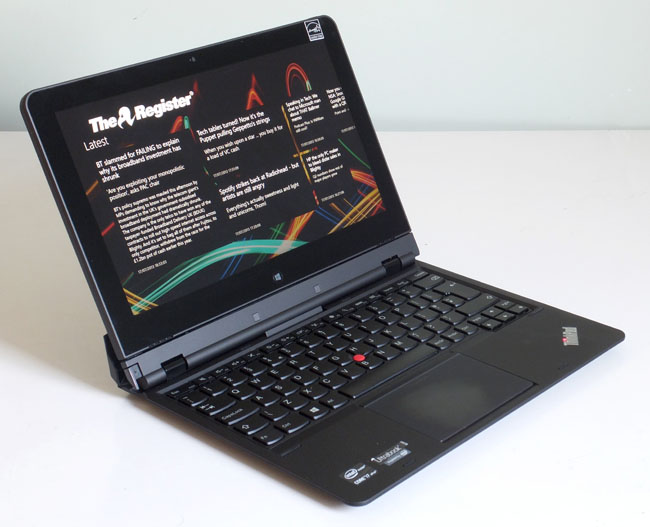 Lenovo ThinkPad Helix convertible Ultrabook
The ThinkPad Helix is another one of those convertible tablet-cum-keyboard affairs. Lenovo's Yoga remained a notebook but its bend-over-backwards hinge allowed it to behave like a tablet. The Helix goes for full separation but at first glance you'd be forgiven for assuming it to be notebook-only.
Equipped with a 2GHz Intel Core i7-3667U vPro CPU, the tablet aspect is a tad lardy at 11.6mm thick and 835g but it does sport an 11.6in full HD display that relies on the Intel HD 4000 integrated GPU. It also has 8GB of DDR3L 1333MHz SDRAM and the review sample has 256GB Toshiba SSD stuffed into it.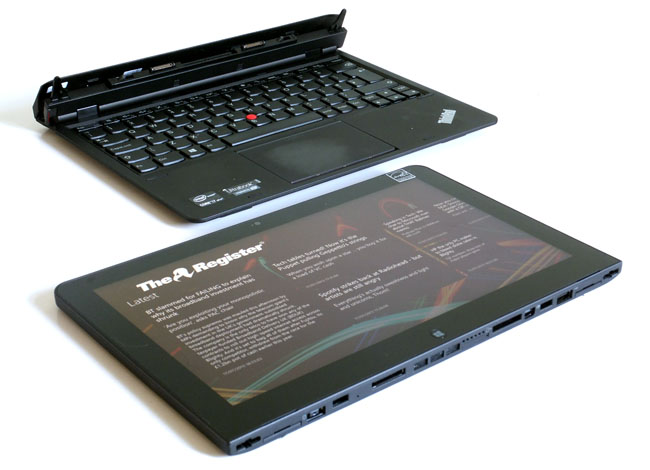 Parting of the ways
The docking unit has a full-size keyboard featuring the timeless Trackpoint teat. It doesn't skimp on the trackpad size either. The room for palm rests is made possible by the space needed for the inch-tall tablet hinge arrangement, which, in effect, adds more depth to the base.
The keyboard unit packs an extra battery too and, effectively, doubles the thickness and weight of this clamshell combo to 1.67kg and 20.4mm respectively. All told, it's certainly not the lightest Ultrabook I've ever handled.
That said, this additional 4-cell power pack enables the Lenovo Helix to clock up those hours and earn the Ultrabook and ultra pricey credentials. Yup, it's £1,861 for this full spec model with Win8 Pro. Sure it's a Core i7, but just how badly do you need a convertible with an 11in screen? For £1,600 you can have a 128GB SSD and Win8 or an equivalent 1.8GHz Intel Core i5-3427U CPU model for £1,340. Tempted?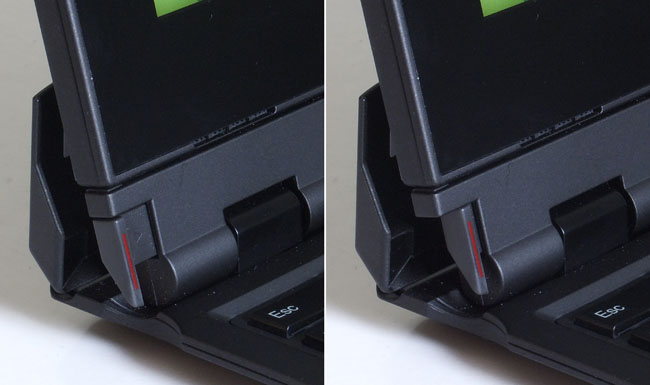 Latching mechanism: push in to release from dock
Before we get into tablet mode, the base also features two USB 3.0 ports and a mini DisplayPort connector. Apart from the power input, that's it. Alas, the keyboard isn't backlit but the spacing is great and Lenovo slots in a row of function keys that double up with dedicated shortcuts to various settings on Windows 8 – very handy.
My only gripe with the keyboard is the positioning of the arrow keys, as I was constantly hitting the Page Down button by mistake. Other than that, everything else fell into place.

Not too chunky when closed, but a bit on the weighty side
There's one neat trick this combo pulls off, which is to allow the tablet to be docked in a presentation mode, so if you fold it down onto the keyboard, the screen remains uppermost. OK, so it's going to work out heavier this way than just using it as a tablet, but you do end up with more battery power.
When upright, presentation mode does seem a bit of a gimmick as only touch control is enabled. Still, I could see this might work nicely for navigation if linked to another screen mirroring the visuals.